The Administrative Division provides office administrative services, including administrative management services, to the United States Attorney and district personnel in the major functional areas of:
Financial Management
Manpower Allocation And Utilization
Personnel Management
Personnel Security Management
Property Management
Facilities And Space Management
Safety And Security Programs
Contracting And Procurement Programs
Administrative Policies And Procedures
Internal Management Control Program
Network System And Case Management
Information Resource Management (Library, Mail, Records, Reproduction Services, Telecommunications, Reports, Forms)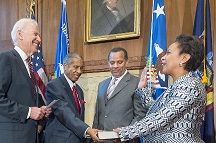 Attorney General Loretta E. Lynch is Sworn-In by Vice President Joe Biden on April 27, 2015.
Do you know your child's identity can be stolen? Watch this video to help protect your child from Identity Theft.