United States v. Raphael J. Musto
Middle District of Pennsylvania Case Number 3:CR-10-00338
The following court document is in Adobe PDF format:
Defense Motion and Government Response Concerning The Defendant's Renewed and Amended Motion to Continue The Trial Indefintely
--To view a copy of the Defense Motion, click here
--To view a copy of the Government's Response, click here
United States District Court Judge A. Richard Caputo's January 7, 2014 Memorandum and Order, click here
Press Release links by date:
Case Summary:

Senator Musto, of Pittston, is charged with accepting a $25,000 cash payment around December 26, 2006, from a construction contractor whom had developed various properties in Lackawanna and Luzerne Counties. Musto accepted the $25,000 in cash, as well as other things of value from the contractor, as part of a stream of benefits designed to secure Musto's continued support of various construction projects which were to the financial benefit of the company.

The indictment also alleges that Musto accepted thousands of dollars in cash from another individual affiliated with several Northeast Pennsylvania municipal authorities. According to the indictment, that cash payment was accepted as a reward for prior official action taken by the Senator where he assisted the municipal authorities to obtain loans and grants from the Pennsylvania Department of Environmental Protection. The indictment charges that Musto accepted these funds intending to be influenced in his future official decisions.
If convicted of the bribery charge, Musto faces a maximum of 10 years' imprisonment and up to a $250,000 fine in accordance with federal sentencing guidelines as applied by the court.
In addition to the charges, the indictment also contains a forfeiture allegation. Upon conviction of any of the offenses charged in Counts 1 through 4, Musto must forfeit the property derived from the violations, specifically, $31,500 in cash.

This case is part of an on-going investigation of public corruption and fraud in local and state government being investigated by the Federal Bureau of Investigation and the Internal Revenue Service.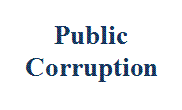 Our commitment to combating public corruption in the Middle District of Pennsylvania and to keeping the public informed about pending cases.