United States v. Michael Pasonick
Middle District of Pennsylvania Docket Number 3:11-CR-00165-RPC-1
The following two court documents are in Adobe PDF format:
Press Release links by date:
Case Summary:

Michael Pasonick is charged with making a corrupt payment to influence official action. The Information alleges that Pasonick paid at least $1,000 to a member of a school board in Luzerne County to influence the board member to support Pasonick's efforts to receive business from the school district.
Pasonick faces a maximum of ten years' imprisonment and a fine of up to $250,000.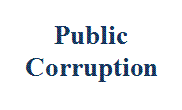 Our commitment to combating public corruption in the Middle District of Pennsylvania and to keeping the public informed about pending cases.