Director of National Intelligence James Clapper and Susan Rose, Galileo Award Finalist
This month we commemorate the tenth anniversary of the worst terrorist attacks on American soil. Those attacks reaffirmed that national security is the Department's highest priority, and there have been many notable changes in the Department's policy and organization to reflect that importance. One key change has been the establishment of the Intelligence Specialists Program, which has installed experienced intelligence analysts in U.S. Attorneys' offices nationwide.
The Intelligence Specialists play a vital role in the prosecution and disruption of terrorism suspects by using their experience to incorporate intelligence information into lawful investigations. Because the primary goal of the counterterrorism community is to stop attacks before they happen, intelligence support can be essential to disrupting, arresting, and prosecuting terrorist suspects or isolating suspects as they attempt to carry out attacks and related terrorist activities. Due to the sensitive and collaborative nature of their work, frequently their efforts are unheralded and typically unknown to the general public. Below, however, are a few instances in which these talented professionals have received public acclaim.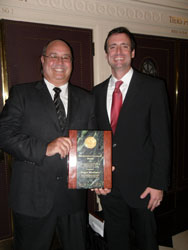 U.S. Attorney Ferrer and Angel Martinez, receiving the Department of Justice Attorney General's Award for Excellence
Angel Martinez of the Southern District of Florida received the Department of Justice Attorney General's Award for Excellence in Furthering the Interest of U.S. National Security in 2010 and the Attorney General's Award for Exceptional Service in 2008. From the Assistant Attorney General, he received the Award for Supporting the National Security Mission in 2007, and he received the Superior Program Coordinator Award from the United States Attorney's Office for the Southern District of Florida in 2006.
 
Susan Rose of the Northern District of Illinois was a finalist for the Director of National Intelligence's prestigious Galileo Award in 2009. Ms. Rose's paper, "Institutionalizing Imagination: Reviving the Art of Intelligence," was recognized as one of the top innovative ideas in the nationwide, interagency program to identify creative solutions for senior leaders in the intelligence community.
 
Pam Benson of the Eastern District of Virginia has been selected to receive the 2011 Anti-Defamation League SHIELD Award for her investigation of Farooque Ahmed and his plot to bomb the Washington DC Metro system.
 
Brian Pires of the District of Rhode Island received the "Public Safety Officer of the Year" Award and also received an award from the Transportation Security Administration in recognition of his efforts to promote rail security and safety along the Northeast Rail Corridor.
 
Eric DeLaBarre of the Northern District of Georgia was recognized by the Federal Law Enforcement Officers Association as part of the Prosecutorial Excellence Team Award in 2009 for his supported work for more than three years on two separate trials, managing the complex and time consuming discovery and pre-trial litigation process. Two subjects were convicted on all counts and additional co-conspirators were discovered, arrested and/or convicted in the UK, Bosnia, and Denmark and Canada.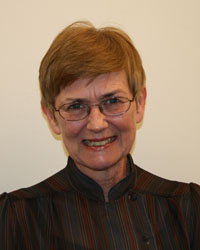 Pam Benson
Elsewhere, Intelligence Specialists have played a role in developing financial intelligence related to material support to terrorism cases, bringing together investigative capabilities from the Drug Enforcement Administration, Immigration and Customs Enforcement, the Internal Revenue Service, Customs and Border Protection, and the U.S. Postal Inspection Service. They have worked equally effectively with law enforcement and security personnel from the FBI and the Department of Defense, to state, local and tribal authorities, adding their expertise to support sensitive national security investigations.
In support of each district's Anti-Terrorism Advisory Council (ATAC) Coordinator, the Intelligence Specialists are essential in helping communicating the threat picture to ATAC members, both providing relevant context of national intelligence to local members, as well as collating locally generated information for national consumption. Through the ATAC, the Intelligence Specialists also assist with coordinating training designed to familiarize local law enforcement with reporting procedures associated with national counterterrorism mechanisms as well as techniques used by terrorist networks and "lone wolves" to prepare attacks. By working hand-in-glove with other members of the federal government, as well as state and local officials, the Intelligence Specialist plays a vital role in preventing and disrupting terrorist attacks within their respective district.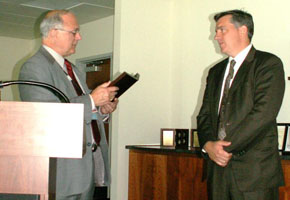 Brian Pires receives the "Public Safety Officer of the Year" Award
Additionally, the Intelligence Specialists program brings together an informal network of uniquely connected individuals, all of whom are no more than one step away from his or her colleague in the opposite end of the country. Their collective expertise allows vetted and analyzed information to be shared across the program nearly instantaneously, then passed on to organizations with the most immediate need. Though informal, this network exercises the highest level of professional vetting through the shared experience and expertise of its members.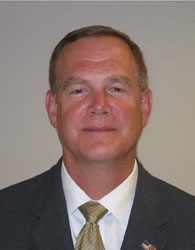 Eric DeLaBarre
The recent arrests of two suspected Iraqi terrorists in Bowling Green, Kentucky demonstrates that the threat of terrorist activity is not limited to cities such as New York or Chicago. Not all districts, however, experience the same threat level all of the time. As a result, many districts rely on a multitude of other skills possessed by the Intelligence Specialists. From physical and information security to crisis response and management, the Intelligence Specialists provide added value beyond their role of intelligence analysis. Also, they can directly apply their analytic experience in an "all-crimes" approach, developing criminal intelligence in support of non-terror cases, working alongside law enforcement professionals from the federal, state, local, and tribal levels.
Still, nothing should detract from the Intelligence Specialists' number one priority—being on top of the terrorist threat to their districts, and being ready to apply expert analysis and advice to the U.S. Attorney community to disrupt and prevent attacks before they take American lives. With continued success, September 11th will remain only an event to commemorate. Keeping Americans safe is our critical mission.
Updated December 8, 2014