Jim Letten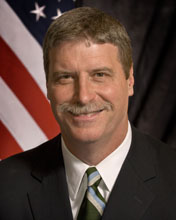 Jim Letten, who has served as the United States Attorney for the Eastern District of Louisiana since April 2001, is a native of New Orleans, having graduated from Tulane Law School in 1979. He then began what was to become a career as a federal prosecutor in the New Orleans District Attorney's Office, where he participated in literally hundreds of jury and bench trials, prosecuting the entire range of criminal violations from thefts to capital crimes.
Mr. Letten has proudly served for over 27 years as a federal prosecutor beginning with the Organized Crime and Racketeering Strike Force in 1982. He served as the Strike Force Chief from 1988, through merger into the United States Attorney's Office in 1990, until he was named First Assistant United States Attorney in August 1994. While First Assistant, Mr. Letten served as a lead prosecutor in the investigation, prosecution, and conviction of former Louisiana Governor Edwin Edward, which concluded in a four month jury trial in early 2000.
Mr. Letten served as interim United States Attorney until his Presidential appointment and subsequent Senate confirmation in July 2005. He continues to serve as United States Attotney, and recently serevd on the Attorney General's Advisory Committee (AGAC), while also serving as the Chair of the AGAC Violent and Organized Crime Subcommittee. Mr. Letten is also a member of the AGAC Terrorism/National Security Subcomittee and the AGAC Environmental Issues Working Group. He recently served as Executive Director of the National Center for Disaster and Recovery Fraud. Mr. Letten is a retired Commander in the U. S. Naval Reserve, having served as Intelligence Officer and NCIS Agent.
Dedicated to the citizens of the Eastern District of Louisiana, Mr. Letten has received numerous awards,including the University of New Orleans' Distinguished Alumnus of the Year in 2008; New Orleans Magazine's Top Attorney of 2007; Gambit Magazine's New Orleanian of the Year for 2009; and the Attorney General's Medallion for Distinguished Service following Hurricane Katrina. Most recently, he received the Anti-Defamation League's 2010 Torch of Liberty Award for his leadership and contributions to counteracting bigotry and advancing civil rights,and the Southeast Louisiana Boy Scouts of America's 2010 Citizen of the Year award.