former child support services employee sentenced to 42 months in prison for selling social security and bank account numbers
TUESDAY, JANUARY 12, 2010
Steven K. Gilmore, 29, of Nashville, Tennessee, was sentenced yesterday to serve 42 months in prison for aggravated  identity theft and access device fraud.  Gilmore was arrested in April 2009 and pleaded guilty in October to a ten-count indictment charging him with identity theft, aggravated identity theft and access device fraud.
            "In response to the threat of identity theft, forty-five states now have adopted statutes that require businesses to notify their customers when their personal information has been
compromised," said U.S. Attorney Edward Yarbrough.  "Beyond the obvious harm suffered by the people whose information has been illegally obtained or disclosed, the expense of this notification, the harm to a business's reputation from the adverse publicity that attends a breach of its information security, and the costs of assuring that systemic weaknesses are identified and eliminated, are costs directly attributable to the criminal conduct of individuals, like Mr. Gilmore,  who steal and wrongfully disseminate that information."
             According to testimony at Gilmore's plea hearing, on three dates between October 2008 and March 2009, Gilmore sold to an informant for the Tennessee Bureau of Investigation (TBI) the names, dates of birth and social security numbers of 35 individuals.  On April 1, 2009,  Gilmore sold approximately 1,143 stolen social security numbers and approximately 1,604 stolen bank account numbers to an undercover TBI agent and received $2,800 in cash.
            Gilmore previously had been employed by Policy Studies, Inc., a private company that contracts with the Tennessee Department of Human Services to provide child support services for Davidson County, Tennessee.  Gilmore had access to personal identification information by virtue of his employment with Policy Studies, Inc.
            Law enforcement authorities believe that Gilmore sold personal identification information only to representatives of law enforcement and that all of the personal identification information stolen by Gilmore has been recovered.  Gilmore's former employer, Policy Studies, Inc. spent approximately $47,500 to notify individuals whose information might have been compromised by Gilmore and to make free credit monitoring services available to those individuals.
            "Fortunately, in this case the Tennessee Bureau of Investigation and the United States Secret Service recovered the personal information for the individual victims before Mr. Gilmore could sell that information to others outside of law enforcement," added U.S. Attorney Yarbrough.  "The corporate victim in this case acted swiftly and responsibly to notify the affected individuals so that the risk of harm could be minimized.  Individuals who are tempted to steal and sell personal identification information should know that they will be caught and held accountable for their crimes."
            In addition to the prison sentence, Gilmore was ordered to pay $47,500 in restitution to his former employer and will have to serve three years of supervised release upon his release from prison.
            This case was investigated by agents from the Tennessee Bureau of Investigation and the United States Secret Service.  The United States was represented by Assistant U.S. Attorney Byron Jones.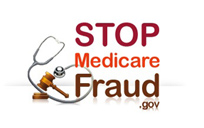 Stop Medicare Fraud
The U.S. Department of Health and Human Services (HHS) and U.S. Department of Justice (DOJ) are working together to help eliminate fraud and investigate fraudulent Medicare and Medicaid operators who are cheating the system.