Hendersonville Resident Pleads Guilty in Tax Scheme
MONDAY, NOVEMBER 15, 2010
Michael John Reynolds, 42, of Hendersonville, Tennessee, pleaded guilty on Friday before U.S. District Judge William J. Haynes, Jr., to two counts of filing false claims against the government, announced Jerry E. Martin, U.S. Attorney for the Middle District of Tennessee.  Reynolds faces a maximum penalty of five years in prison and a fine of $250,000 on each count when he is sentenced on February 18, 2011.
            During the plea hearing, Reynolds admitted that for tax years 2005 and 2006 he participated in the filing of fraudulent tax returns involving numerous individuals.  As part of his scheme, Reynolds would provide individuals with fraudulent W-2  Forms or teach the individuals how to create a false W-2 Form containing fictitious wage and withholding figures.  The fraudulent W-2 Forms were then presented to legitimate income tax return preparers for preparation and filing of false federal income tax returns.  Reynolds admitted to the filing of 41 fraudulent tax returns with the Internal Revenue Service (IRS), which requested refunds totaling $100,950.
            This investigation was conducted by IRS Criminal Investigation.  Assistant U.S. Attorney Sandra G. Moses represented the government.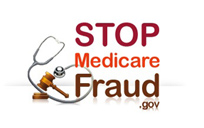 Stop Medicare Fraud
The U.S. Department of Health and Human Services (HHS) and U.S. Department of Justice (DOJ) are working together to help eliminate fraud and investigate fraudulent Medicare and Medicaid operators who are cheating the system.