Former Central parking Corporation Official Charged in $1.9 Million Fraud
THURSDAY, NOVEMBER 18, 2010
Mary Harris, 51, of Pleasant View, Tennessee and a former treasury analyst for Central Parking Corporation, was charged Tuesday in a criminal information with four counts of wire fraud arising from her scheme to embezzle company funds from August 2004 to August 2009, announced Jerry E. Martin, U.S. Attorney for the Middle District of Tennessee.  If convicted, Harris faces up to 20 years in prison on each count.
                       
            "Corporate officials hold positions of trust, both within their companies and in the eyes of the public at large," said U.S. Attorney Jerry E. Martin.  "That trust is broken when such officials abuse their power and commit crimes.  A complex corporate embezzlement, just like any other theft, is a serious crime, and the U.S. Attorney's Office will continue to prosecute those who commit them."
            According to the information, from approximately August 2004 to August 2009, Harris embezzled over $1.9 million from Central Parking, a Nashville, Tennessee-based company that offers parking services throughout the United States.   In her position as a treasury analyst, Harris had access to certain bank accounts of Central Parking and the Automated Clearing House ("ACH") system that Central Parking used to conduct financial transactions.  Over the course of the scheme, Harris used ACH transactions to fraudulently transfer Central Parking funds to her own bank account.  Harris then concealed her fraud by making fraudulent accounting entries in Central Parking's accounting ledger and creating false emails to support those entries.
            The case was investigated by agents with the Federal Bureau of Investigation.  The United States is represented by Assistant U.S. Attorney Ty Howard.
            The public is reminded that a criminal information is merely an accusation and not evidence of guilt.  All defendants are presumed innocent unless and until proven guilty in a court of law.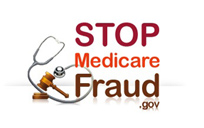 Stop Medicare Fraud
The U.S. Department of Health and Human Services (HHS) and U.S. Department of Justice (DOJ) are working together to help eliminate fraud and investigate fraudulent Medicare and Medicaid operators who are cheating the system.