Former SunTrust Loan Officer Pleads Guilty to Bank Fraud
TUESDAY, DECEMBER 14, 2010
Shawn Tidwell, 41, of Brentwood, Tennessee, and a former loan officer for SunTrust Bank and National Bank of Commerce, pleaded guilty yesterday to one count of bank fraud arising from a fraudulent loan scheme he engaged in from February 2005 to February 2008, announced Jerry E. Martin, U.S. Attorney for the Middle District of Tennessee.  Tidwell faces up to 30 years' imprisonment and a $1,000,000 fine.
            "Bank officials hold important positions of trust, both inside their banks and in the larger community," said U.S. Attorney Jerry E. Martin.  "When crimes are committed by such officials, that trust is broken.  The U.S. Attorney's Office is pleased that federal agents successfully investigated this case, and we will continue to work with our law-enforcement partners to ensure that the banking public is protected from financial crimes."
            At the plea hearing held before United States District Judge John T. Nixon, Tidwell admitted that, in February 2005, while working as a loan officer for National Bank of Commerce in Nashville, he prepared loan paperwork for a potential borrower.  The loan was approved internally by the bank, but the borrower later declined to take it out.   Thereafter, Tidwell admitted that he forged the signatures of the borrower and changed the borrower's address on the loan to his own personal address.  After fraudulently completing the rest of the paperwork, Tidwell caused the proceeds of the $87,500 loan to be disbursed to him and later used the proceeds for various personal financial obligations.  During this period, National Bank of Commerce was purchased by SunTrust, which thereafter assumed the loan.  Tidwell continued to work as a SunTrust as a loan officer for several months before leaving the bank.
            Over the next several years, Tidwell said that he made payments on the fraudulently obtained loan.  In an attempt to avoid detection of his crime, he also changed the mailing address on the loan to a post office box, which he had opened solely to receive the loan invoices.  In approximately February 2008, however, Tidwell stopped paying the loan's monthly invoices, and the loan went into default.  The crime was detected when the deceived borrower learned of the default in its name and contacted law enforcement agents, who later traced the crime back to Tidwell.
            The case was investigated by agents with the United States Secret Service and United States Postal Inspection Service.  The United States is represented by Assistant U.S. Attorney Ty Howard.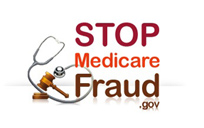 Stop Medicare Fraud
The U.S. Department of Health and Human Services (HHS) and U.S. Department of Justice (DOJ) are working together to help eliminate fraud and investigate fraudulent Medicare and Medicaid operators who are cheating the system.