former metro nashville Police officer convicted of making false statements to a firearms dealer
MONDAY, DECEMBER 20, 2010
Edwing Ronal Morales, a former Metropolitan Nashville police officer, was found guilty on December 15, 2010 by a jury, after a two day trial in U.S. District Court in Nashville, of two counts of making false statements to a firearms dealer during two attempted purchases of handguns in 2009, announced Jerry E. Martin, U.S. Attorney for the Middle District of Tennessee; Glenn N. Anderson, Special Agent in Charge of the Bureau of Alcohol, Tobacco, Firearms and Explosives (ATF), Nashville Field Division; Jon Ruttencutter, Resident Agent in Charge of the Department of Homeland Security, Homeland Security Investigations (HSI), Nashville Field Office; and Steve Anderson, Interim Chief of Police, Metropolitan Nashville Police Department.
            According to the trial testimony, Morales went to Guns and Leather, a federal firearms licensee, located in Greenbrier, Tennessee on two occasions in May and July of 2009. Morales attempted to purchase handguns for a friend and co-defendant in the case, Julio Rojas-Lopez. During the attempted purchases, Morales, a Nashville police officer since September 2007, falsely represented on a Firearms Transaction Record, commonly known as a 4473 Form, that he was the actual buyer of handguns that were actually intended for Rojas-Lopez, who was illegally transporting guns to Guatemala. Morales was terminated from the police department in September 2009.
            Making false statements on a 4473 Form is a violation of federal law. Morales will be sentenced by Chief U.S. District Judge Todd J. Campbell on April 11, 2011. Each of the violations carries a penalty of up to 10 years in prison and a fine of up to $250,000.                                                                                       
           "Making false statements in connection with the purchase of firearms is a serious matter that we, as law enforcement officials, will actively pursue," said U.S. Attorney Jerry Martin . "The defendant, like every other citizen, must be held to the same standard, ATF Special Agent in Charge Glenn Anderson echoed those comments, stating, "This case is a prime example that no one is above the law. Law enforcement officers are expected to serve our communities each day and ensure that the public trust is not broken. Morales chose a different path. A jury of his peers has held him accountable."
            This case was investigated by agents with the Bureau of Alcohol, Tobacco, Firearms, and Explosives and Immigration and Customs Enforcement. The United States was represented by Assistant United States Attorneys Philip H. Wehby and Mary Elizabeth McCullohs.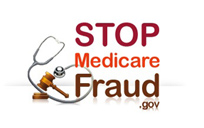 Stop Medicare Fraud
The U.S. Department of Health and Human Services (HHS) and U.S. Department of Justice (DOJ) are working together to help eliminate fraud and investigate fraudulent Medicare and Medicaid operators who are cheating the system.