Former CFO Charged with Money Laundering
Ruey Ann Gordon, 58, of Brentwood, Tennessee and a former chief financial officer of the Technology Division of Goldleaf Financial Solutions, Inc., was charged with money laundering under 18 U.S.C. § 1957 in a one-count criminal information.  The charge stems from Gordon's embezzlement of more than $166,000 from Goldleaf over the course of nearly two years.  If convicted, Gordon faces up to 10 years in prison.
            "High-ranking corporate officials hold positions of trust not only in their companies but also in the eyes of the public," said U.S. Attorney Edward M. Yarbrough.   "That trust is broken when such officials abuse their power and commit crimes.  A complex corporate embezzlement, just like any other theft, is a serious crime, and the U.S. Attorney's Office will continue to prosecute those who commit them."
            According to the information, from approximately January 2006 to November 2007, Gordon embezzled more than $166,000 from Goldleaf, where she had worked as a division CFO.  Goldleaf is a financial-processing company that, among other things, offered "ACH Client," an Internet-based product that allows clients to use the Automated Clearing House ("ACH") network.  The ACH network is an electronic network used by some banks and businesses to process large volumes of credit and debit transactions faster and cheaper than traditional methods.  In addition to selling ACH client, Goldleaf used it for its own internal banking.
            In her executive position, Gordon had the authority to create and approve ACH transactions to pay vendors that provided services to Goldleaf.  According to the information, Gordon misused that authority to create a series of fraudulent ACH transactions for her own benefit.  By manipulating the ACH Client system, Gordon directed multiple credits to her own personal bank account and then concealed those fraudulent transactions within the system.  Gordon further concealed her fraud by fraudulently creating false entries in Goldleaf's accounting system.
            The case was investigated by agents with the Internal Revenue Service-Criminal Investigation and the Federal Bureau of Investigation.  The United States is represented by Assistant U.S. Attorney Ty Howard.
            The public is reminded  that a criminal information is merely an accusation and is not evidence of guilt.  All defendants are presumed innocent unless and until proven guilty in a court of law.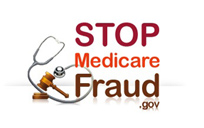 Stop Medicare Fraud
The U.S. Department of Health and Human Services (HHS) and U.S. Department of Justice (DOJ) are working together to help eliminate fraud and investigate fraudulent Medicare and Medicaid operators who are cheating the system.