lawrenceburg Gun Shop Loses Federal Firearms License
WEDNESDAY, MARCH 31, 2010
The United States District Court, yesterday, affirmed the decision of the Bureau of Alcohol, Tobacco, Firearms and Explosives ("ATF") to deny the application for renewal of a federal firearms license held by Franklin Dewey Shaffer d/b/a Rebel Pawn Shop, a Lawrenceburg, TN, pawn shop that has been in business since 1988,announced Edward M. Yarbrough, United States Attorney for the Middle District of Tennessee.

                Shaffer held a federal firearms license ("FFL") which authorized him to engage in business as a dealer of firearms, including a pawn shop.  During compliance inspections in 1998, 2000, and 2007, ATF investigators found numerous violations of federal firearms laws and regulations.  Shaffer was provided in writing with corrective actions to take, provided with education about the laws, and cited.  In 2008, ATF issued Shaffer a Notice of Revocation of License based on the results of the 2007 compliance inspection.  After an informal hearing on the Notice of Revocation, the hearing officer recommended that Shaffer's license be revoked (Shaffer filed an application to renew his license which converted the proceeding from one for revocation to consideration of the renewal).
                 On April 9, 2009, ATF issued a Final Notice of Denial of Application or Revocation of Firearms License, and Shaffer filed a lawsuit in U.S. District Court challenging the Final Notice.
                In his opinion dismissing Shaffer's lawsuit yesterday, U.S. District Judge Robert L. Echols wrote, "An application for a federal firearms license will not be approved if the applicant has willfully violated any provision of the Gun Control Act or the regulations issued under it. The Court concludes from the evidence presented that Shaffer's violations were willful as a matter of law and that the Attorney General was authorized to revoke Shaffer's federal firearms license and to deny Shaffer's application for a renewal of that license."  Judge Echols found that the reasons not to renew Shaffer's FFL included transferring firearms to persons who appeared to be prohibited from owning them, a false entry in the Acquisition & Disposition (A&D) Record, failure to record acquisitions in the A&D Record in a timely manner, failure to obtain properly executed ATF Forms 4473, and failure to report multiple sales of handguns to the same person.  Shaffer complained that the law was "picky."  However, as Judge Echols wrote, "It is not Shaffer's place to decide unilaterally which federal firearms regulations are so 'picky' that they need not be followed."
                "Federal firearm laws and regulations exist to insure firearms are kept out of the hands of those who would use them to commit violent crimes and to assist law enforcement in doing its job to protect the public," said U.S. Attorney Yarbrough.  "Federal Firearms Licensees must adhere to these regulations or they will be held accountable."
                "This case underscores the need for every federally licensed firearm's dealer to be meticulous with their records each day," said Harry L. McCabe III, Director of Industry Operations, ATF Nashville Field Division. " The records are their records, but without them, law enforcement cannot be as effective in our mission of preventing and solving violent crime involving firearms."          
                  The investigation was conducted by inspectors from the Bureau of Alcohol, Tobacco, Firearms and Explosives.  The United States was represented by Assistant United States Attorneys Mike Roden and Debra Teufel Phillips.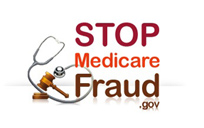 Stop Medicare Fraud
The U.S. Department of Health and Human Services (HHS) and U.S. Department of Justice (DOJ) are working together to help eliminate fraud and investigate fraudulent Medicare and Medicaid operators who are cheating the system.