Frankin Financial Adviser Barron A. Mathis Pleads Guilty to Investment Ponzi Scheme
Barron A. Mathis, 29, former Vice President and portfolio manager for J.C. Reed & Company, a failed financial services company previously based in Franklin, Tennessee, pleaded guilty yesterday to charges of wire fraud in a hearing held before District Judge Robert L. Echols, announced Edward M. Yarbrough, U.S. Attorney for the Middle District of Tennessee. A felony Information was previously filed on November 10, 2009, charging Mathis with four counts of wire fraud.
At the hearing Mathis admitted his role in a scheme to defraud investors who deposited funds in excess of $11 million with J.C. Reed & Company between January 2006 and October 2008. As part of the scheme, Mathis solicited and obtained money from clients, friends, and acquaintances by falsely promising to invest and manage their money in growth-oriented, traditional instruments, such as investments with fixed annual returns, or in established marketable securities. Mathis encouraged investors to purchase J.C. Reed stock by representing that the stock was a safe investment when he knew that the purchase of J.C. Reed stock was actually a high-risk investment and that J.C. Reed clients, who were mostly elderly and unsophisticated growth-oriented investors, would not have invested in the stock but for his false assurances.
"Cases like these are egregious examples of predators who target vulnerable and innocent victims through false and fraudulent business practices," U. S. Attorney Yarbrough said. "By his own admission, Mathis encouraged people to invest by falsely promising security, growth and inflated returns on their money, but instead the investors lost their savings as part of an elaborate fraud scheme. The United States Attorney's Office will diligently and aggressively prosecute the perpetrators of such schemes."
In order to induce his clients, friends, and acquaintances to invest in J.C. Reed & Company, Mathis admitted that he falsely assured them that J.C. Reed was profitable and making money, that a market existed for J.C. Reed stock, and that their investment in J.C. Reed & Company stock would increase in value and be readily redeemable. However, Mathis knew at the time he made those assurances to investors that J.C. Reed & Company was not profitable, that virtually all of its operating capital was received from shareholder investments, and that no market existed for J.C. Reed & Company stock.
Mathis further admitted that, between June 2007 and October 2008,without the knowledge or authorization of J.C. Reed & Company clients, he frequently used his discretionary authority as "portfolio manager" to liquidate traditional investments from various client portfolios and used the funds to purchase shares of J.C. Reed & Company stock. Mathis also withdrew or liquidated assets from individual client accounts and used the funds to make investment purchases for the accounts of other clients, or to open new client accounts with J.C. Reed & Company. In order to disguise his unauthorized purchases and sales of client securities, Mathis created fraudulent invoices, forged client signatures on trading documents, and prepared fictitious account statements that falsely reported client investment holdings. Mathis then caused these fraudulent documents to be wired to clients. Between approximately January 2007 and October 2008, Mathis solicited, offered, sold, or purchased approximately $1,543,000 of J.C. Reed & Company stock in unregistered transactions to investors located in multiple states.
No sentencing date was set by Judge Echols, but sentencing is usually scheduled in such cases within 60 to 90 days of a plea hearing.
The charges in the Information were brought following a coordinated investigation conducted by agents from the United States Postal Inspection Service, the Federal Bureau of Investigation, and the Franklin Police Department. Assistant United States Attorney John K. Webb is prosecuting the case for the United States.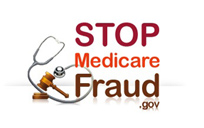 Stop Medicare Fraud
The U.S. Department of Health and Human Services (HHS) and U.S. Department of Justice (DOJ) are working together to help eliminate fraud and investigate fraudulent Medicare and Medicaid operators who are cheating the system.