Old Hickory Couple Sentenced to Four years in Prison for $1.3 Million Embezzlement
WEDNESDAY, APRIL 28, 2010
Johnny Haney, 43, and Jennifer Haney, a/k/a Jennifer Stopper, 40, both of Old Hickory, Tennessee were sentenced Monday afternoon by U.S. District Judge Aleta Trauger to four years in prison for their roles in a sophisticated corporate embezzlement and identity-theft scheme.  Both defendants had previously pleaded guilty in December 2009 and admitted to, among other conduct, fraudulently using a corporate credit card for their own personal benefit.  Judge Trauger sentenced both defendants to 24 months in prison on wire fraud and access-device fraud charges, in addition to a mandatory consecutive 24 month sentence for aggravated identity theft.  After serving their prison sentence, both defendants will be on supervised release for three years and be obligated to repay over $1.3 million to the victim company.
            United States Attorney Edward Yarbrough commented:  "Corporate fraud and embezzlement are serious crimes.  They affect not only the financial health of the victim companies but also betray the trust of honest employers, whether corporate or otherwise.  The U.S. Attorney's Office, along with its law-enforcement partners, will continue to vigorously pursue such criminals on behalf of companies and individuals of Middle Tennessee."
            At the sentencing hearing and the earlier plea hearing, Jennifer and Johnny Haney admitted to the details of their crimes.  Jennifer Haney was employed as an accounts payable supervisor by Permobil, a Lebanon, Tennessee company that manufactures and distributes electronic wheelchairs.  In that position, she had access and control of several Permobil financial and business accounts, including Permobil's corporate credit-card account and a rental-car account.  Haney admitted that prior to July 2004, she obtained the corporate credit card of a Permobil employee who was being terminated from the company.  Thereafter, she gave that card to her husband, Johnny Haney, who assumed the identity of the real cardholder.
            From approximately July 2004 to approximately December 2007, Johnny Haney and Jennifer Haney, individually or jointly, used the fraudulently obtained credit card to make a series of purchases, the aggregate total of which exceeded $1.3 million.  The defendants admitted to using the Permobil credit card to purchase jet skis, sporting goods, youth-sports equipment, audio and video equipment, and meals at restaurants for themselves and others.  Among the specific charges the defendants admitted to making over that period were:
$30,784.84 at Academy Sports;
$273,193.80 at Nashville Sporting Goods;
$21,813.87 at Calhoun's restaurant;
$91,265.43 at Longhorn Steakhouse
$60,534.86 at Cartronics;
$58,667.25 at Outback;
$22,354.83 at Pizza Hut;
$19,678.30 at Tennessee Furniture; and
$25,054.76 at America's Motorsport.
            The total of fraudulent credit-card charges that defendants admitted to making was over $1.31 million. 
            In addition to the fraudulent credit card charges, the Haneys also admitted to making fraudulent rental-car charges for vehicles for their personal use during that same period.  The aggregate value of the rental cars exceeded $53,000.  The Haneys also admitted to causing fraudulent direct debits for their benefit and the benefit of others from another bank account at Permobil.  The aggregate value of those fraudulent direct debits exceeded $20,000.
            At the sentencing, Judge Trauger characterized the crimes as "totally extraordinary" and even "bizarre."  Nonetheless, the Court rejected defendants' claims that they spent the proceeds of their crimes solely on charitable giving, finding a "strong element of narcissism and self aggrandizement in these acts" and noting that the defendants were "high rollers in this culture of youth sports." 
            The case was investigated by the United States Secret Service and the Lebanon Police Department.  Assistant U.S. Attorney Ty Howard prosecuted the case for the United States.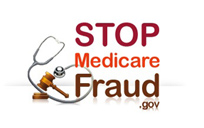 Stop Medicare Fraud
The U.S. Department of Health and Human Services (HHS) and U.S. Department of Justice (DOJ) are working together to help eliminate fraud and investigate fraudulent Medicare and Medicaid operators who are cheating the system.