mail and Wire Fraud Charges Filed Against Franklin Financial Adviser William Walter Spencer
A federal felony criminal Information against William W. Spencer, 67, a former Franklin financial advisor, was  filed on April 2, 2010 in the United States District Court for the Middle District of Tennessee in Nashville, charging Spencer with six counts of mail fraud, and five counts of wire fraud.  The charges were based on Spencer's alleged role in embezzling more than $1,456,177 in client investment funds, announced Ed Yarbrough, U.S. Attorney for the Middle District of Tennessee.   Joining Yarbrough in the announcement were My Harrison, Special Agent in Charge, Memphis Division of the Federal Bureau of Investigation (FBI); Martin P. Phanco, Inspector in Charge, United States Postal Inspection Service; and Jackie Moore, Franklin Police Chief.
            The Information sets forth the following allegations:  for approximately12 years between December 1997 until approximately November 2009, Spencer operated an investment Ponzi scheme in which he borrowed and solicited more than $1,897,718 from approximately 100 friends, clients, and investors by promising inflated returns of between 10% to 12%.  Spencer characterized each investment as a "personal loan" and executed and provided a promissory note to each investor.  Spencer also pledged his personal assets and life insurance policies as collateral for each promissory note, and promised each investor that he would repay the principal for each loan in periods ranging from six months to one year.  During the life of the Ponzi scheme Spencer solicited and persuaded approximately one hundred individuals to invest and/or loan him funds secured by promissory notes. 
            At the time he solicited the loans and executed each promissory note, Spencer did not have the liquid assets or income necessary to pay the interest promised to investors, or to return the loan principal as each promissory note matured.  Spencer also lied to investors about the value of his personal wealth and about the amount of life insurance available to be pledged as collateral for the promissory notes.  In addition, Spencer also lied about the total aggregate amount of debt he owed on the promissory notes and concealed his inability to repay the promissory notes at maturity.
             As a further inducement to invest in his Ponzi scheme, Spencer falsely represented to investors that their investments had been safely invested in pooled investment funds intended to maximize their return on investment.  To discourage investors from cashing-out their investments as their notes matured, Spencer warned that doing so would reduce their rate of return and would negatively impact the returns received by other pooled investors.  When questioned by investors, Spencer refused to disclose the exact nature or location of invested funds, and restricted withdrawals until a replacement investor could be found.  Spencer falsely told investors that the reason for restricting cash-outs was to protect other investors from being negatively impacted.  In fact, the Information alleges, Spencer never invested any of the solicited funds, and instead, used client funds to pay personal expenses and to occasionally disburse fictitious earnings and return of principal to other investors in order to satisfy maturity of the promissory notes or to cover investor requests for cash-outs.
            On or about August 31, 2009, the National Association of Securities Dealers, Inc. (now known as the Financial Industry Regulatory Authority ("FINRA")) issued a permanent bar against Spencer for violation of FINRA conduct rules, thus prohibiting him from future broker – dealer registration through FINRA.  Also,on or about November 16, 2009, Spencer entered into a consent order with the Tennessee Commissioner of Commerce and Insurance in which his insurance producer license and registration as an agent under the Tennessee Securities Act was revoked and he was permanently barred from applying for or seeking any future registration or license from the Tennessee Securities Division and the Tennessee Insurance Division.
 
            "Cases like these are devastating to investors, especially people who invest their life's savings with individuals they trust, only to find that their trust has been misplaced," United States Attorney Edward M. Yarbrough said.  "In this case, a lot of people have invested money they can't afford to lose, particularly in hard economic times.  The United States Attorney's Office will diligently and aggressively prosecute those who perpetrate such schemes and prey on unsuspecting and trusting investors."  
            The charges in the Information were brought following a coordinated investigation conducted by agents from the FBI, the United States Postal Inspection Service, and with the cooperation of the Franklin Police Department.  Assistant United States Attorney John K. Webb is prosecuting the case for the United States.
                                                                                               
            An Information constitutes only an allegation and is not evidence of guilt.  A charged defendant is presumed innocent and is entitled to a jury trial at which the Government would bear the burden of proof beyond a reasonable doubt as to each count of the information.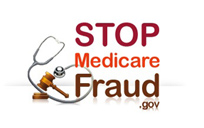 Stop Medicare Fraud
The U.S. Department of Health and Human Services (HHS) and U.S. Department of Justice (DOJ) are working together to help eliminate fraud and investigate fraudulent Medicare and Medicaid operators who are cheating the system.