Former nashville Resident Sentenced to 51 Months in Prison for $2.7 Million Bank Fraud
Andrew Crutcher, 53, formerly a resident of Nashville, was sentenced on April 29, 2010 to serve 51 months in prison and pay 2.7 million dollars in restitution, for engaging in a bank fraud scheme, announced Edward Yarbrough, U.S. Attorney for the Middle District of Tennessee..
Crutcher, who had no prior criminal record, pleaded guilty before Chief District Judge Todd Campbell in October 2009.  Crutcher admitted that from May 2005 to February 2006, he had engaged in a hybrid Ponzi scheme and check kite fraud which was designed to make it appear as though there were sufficient funds on deposit in Crutcher's checking account to cover large cash withdrawals and checks he was writing on the account.   The eventual collapse of the checking account resulted in a loss of $981,661 to the Bank of Nashville, and additional losses of approximately 1.8 million dollars to ten individuals.
 
Crutcher, who was then an automobile broker and car salesman, funded the checking account he held with Bank of Nashville with millions of dollars in checks he obtained from various individuals in an on-going fashion, who were led to believe that they were providing capital for car sales being brokered by Crutcher, and on which they would obtain a profit.  During the scheme, Crutcher falsely claimed that he was brokering hundreds of individual car sales a month–  as many as 500 per month toward the end of the scheme– which according to testimony by an agent of the Secret Service who investigated the matter, was an utter impossibility.  In reality, most of the car sales which Crutcher claimed to be brokering were fictitious. 
           
Crutcher used portions of the money he obtained from his capital investors by these false representations for personal expenses, and repaid investors with money that he borrowed  from other investors.  As time went on Crutcher was required to obtain these short term loans more frequently and in ever increasing amounts from his group of investors,  to maintain what appeared to be a positive balance in his checking account.  He was eventually doing little more than trading checks between himself and these investors, and as a result, the balance of his checking account was artificially inflated.  The scheme was ultimately discovered when one of the investors stopped payment on a large check, and the account collapsed due to grossly insufficient funds. 
"This is a sad case of a man living beyond his honest means, and using money fraudulently obtained  from others to do," said U.S. Attorney Ed Yarbrough.  "He misused his business and banking knowledge, and abused the trust others had in him, to fraudulently obtain funds from a federally insured bank.  This conduct, and the losses he inflicted on the bank and others, merits the sentence imposed."   
The case was investigated by agents of the United States Secret Service and the Federal Deposit Insurance Corporation, and was prosecuted by Assistant U.S. Attorney Hilliard Hester.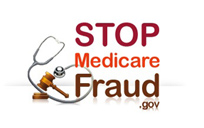 Stop Medicare Fraud
The U.S. Department of Health and Human Services (HHS) and U.S. Department of Justice (DOJ) are working together to help eliminate fraud and investigate fraudulent Medicare and Medicaid operators who are cheating the system.