Tennesseans reminded to Report Disaster Related Fraud
United States Attorney Edward Yarbrough and Tennessee Attorney General Bob Cooper are urging Tennessee residents and businesses to be aware of and report suspected fraudulent activity related to flood relief operations and federal funding for flood victims.  As of yesterday, more than  $45.9 million in FEMA assistance has been approved for individuals and families in Tennessee.  Those amounts are expected to grow considerably in the days and weeks ahead.
            "We will take an absolute zero-tolerance approach when dealing with disaster related fraud in this District," said U.S. Attorney Yarbrough. "We watched the devastation to our communities unfold last week and now see the magnitude of the task before us as our citizens, many of whom are destitute, begin to rebuild their lives.  Anyone who would attempt to prey on such desperate people or divert any of the relief mechanisms made available by our government, will certainly have an opportunity to experience the justice system of the federal government.  A team of law enforcement agencies, investigators and prosecutors stand ready to respond to all credible allegations of fraud and abuse." 
            "While the response to this crisis proves that Tennesseans pull together to help their neighbors, there are unscrupulous operators who will take advantage of a disaster like this," said Attorney General Bob Cooper. "Whether its shoddy repair work, price gouging or solicitation for fake charities, consumers need to be on guard and contact state and federal authorities when they suspect something isn't right."
            Members of the public can report fraud, waste abuse or allegations of mismanagement involving disaster relief operations through the National Disaster Fraud Hotline toll free at (866) 720-5721 or the Disaster Fraud e-mail at disaster@leo.gov.  The telephone line is staffed by a live operator 24 hours a day, seven days a week.  You can also fax information to (225) 334-4707.
            The public may also contact the State's consumer hotline at 1-800-342-8385 (within the State of Tennessee) or 615-741-4737 to file a consumer complaint or report unfair or deceptive acts against consumers between 8:00 a.m.-4:30 p.m. (Central Time). The Attorney General's Office and the Department of Commerce and Insurance have more information on how to get help. Visit http://www.tn.gov/attorneygeneral/cpro/disasterrecovery.htm.  Regarding contractor complaints, consumers can verify license status with Commerce and Insurance at http://verify.tn.gov and other state insurance, licensure and consumer information at www.tn.gov/commerce/.
            Members of the public are reminded to apply a critical eye and do their due diligence before giving contributions to anyone soliciting donations on behalf of flood victims.  Solicitations can originate from e-mails, websites, door-to-door collections, mailings, telephone calls and similar methods. 
            In anticipation of unprecedented fraud in connection with federal disaster relief following Hurricanes Katrina, Rita and Wilma, a Joint command center was established in Baton Rouge, La., to coordinate reports of fraud.  The command center, now known as the National Center for Disaster Fraud, has since expanded its mission to include suspected fraud from any natural or manmade disaster.  More than 20 federal agencies participate in the center, allowing it to act as a centralized clearinghouse of information.  To date, the National Center for Disaster Fraud has received and screened more than 38,000 complaints and has referred more than 24,000 complaints of disaster fraud to law enforcement for investigation.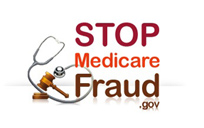 Stop Medicare Fraud
The U.S. Department of Health and Human Services (HHS) and U.S. Department of Justice (DOJ) are working together to help eliminate fraud and investigate fraudulent Medicare and Medicaid operators who are cheating the system.