Murfreesboro Woman Sentenced to 46 Months in Prison for Wire Fraud
Rhonda K. Warren, 44, of Murfreesboro, Tennessee, was sentenced yesterday by Chief United States District Judge Todd  J. Campbell  to serve 46 months in prison for wire fraud, announced Jerry E. Martin, U.S. Attorney for the Middle District of Tennessee.  Warren was indicted by a federal grand jury  in August 2009 and pleaded guilty on March 4, 2010.
            Warren was an accounts payable clerk who stole $679,113.87 from her employer, Ole South Properties, Inc. of Murfreesboro, Tennessee.  According to testimony at the sentencing hearing, Warren created fraudulent invoices, purportedly from sub-contractors, for Ole South Properties, Inc. and caused Ole South Properties to issue checks to the employer of her boyfriend.  The employer of Warren's boyfriend paid the proceeds of the checks to her boyfriend, in the mistaken belief that they were payment for work performed by him for Ole South Properties.
            Warren was also ordered to pay $679,113.87 in restitution to her former employer and will remain under the supervision of the United States Probation Office for three years upon her release from prison.
            "The recent recession in the home construction industry has caused enormous hardship for the members of our community who earn their livelihoods building homes,"  United States Attorney Jerry E. Martin said.  "Difficult economic times often expose fraudulent schemes that might have escaped notice when times were good.  This office is committed to prosecuting those who exploit the trust of their employers and colleagues to fraudulently line their own pockets."
            This case was investigated by detectives from the Murfreesboro Police Department and agents from the United States Secret Service.  The United States was represented by Assistant U.S. Attorney Byron Jones.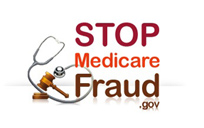 Stop Medicare Fraud
The U.S. Department of Health and Human Services (HHS) and U.S. Department of Justice (DOJ) are working together to help eliminate fraud and investigate fraudulent Medicare and Medicaid operators who are cheating the system.