U.S. Attorney's Office Expands Project Safe Neighborhood Initiative to the Clarksville Area
The leadership from law enforcement agencies in Montgomery and Robertson Counties joined U.S. Attorney Jerry Martin and District Attorney General John Carney this morning in announcing the formal expansion of the Project Safe Neighborhood (PSN) initiative in the 19th Judicial District.             
            At the 11:00 a.m. press conference, U.S. Attorney Jerry Martin announced that the 19th Judicial District, which includes Montgomery and Robertson Counties in Middle Tennessee, has been awarded a grant under the Project Safe Neighborhood program which  funds an additional full-time prosecutor for the District Attorney's Office.  After making this announcement, Martin administered the oath of office to Sam Knolton, Jr., which designated him as a Special Assistant United States Attorney.  Knolton will coordinate violent crime and gun cases in these counties.
            "This is great news for the citizens of these communities," said U.S. Attorney Jerry Martin.  "They can be assured that this additional resource in the D.A.'s Office will have a profound impact on reducing violent crime as we begin taking the repeat, violent offenders off of the streets and out of their neighborhoods.  We intend to make these individuals guests of the United States Bureau of Prisons for long periods of time." 
            "I can't begin to tell you how important this grant will be to our office and to our law enforcement agencies," said District Attorney John Carney.  "This will allow an already understaffed office to dedicate a prosecutor to screen and identify violent offenders that warrant federal prosecution and then work alongside the U.S. Attorney' Office in preparing cases for indictment and disposition". 
            Several cases have already been identified and sent to the U.S. Attorney's Office for federal prosecution. 
            The PSN program has been operating in the Nashville area for several years and has been credited with helping to reduce violent crime rates.  Since 2008, over 200 defendants in the Nashville area have been charged federally with firearms and related violations as a result of the cooperation between the U.S. Attorney's Office, the Davidson County District Attorney's Office, Metro Police and ATF.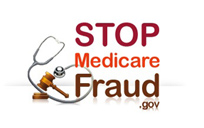 Stop Medicare Fraud
The U.S. Department of Health and Human Services (HHS) and U.S. Department of Justice (DOJ) are working together to help eliminate fraud and investigate fraudulent Medicare and Medicaid operators who are cheating the system.