Nashville Man Sentenced to 51 months in prison for fraud Scheme
Christopher Michael Nezer, 50,  has been sentenced to serve a 51 month prison term for a  fraud scheme he carried out in 2002 in connection with his operation of a Nashville company called Stencilco. 
            Nezer, who pleaded guilty to wire fraud in September 2009, admitted that he obtained more than $207,000 from about 20 persons who purchased sales territories from him, in various regions of the United States, for the distribution of  a unique reusable stencil product which Nezer claimed he had invented and patented.  Nezer convinced these persons to invest in Stencilco by making false representations regarding the level of his formal education; his prior and existing business relationships and his affiliations with well known corporations such as Kodak, Disney and Nike; the net worth, age, size, control and managerial structure of Stencilco; the income that he, Stencilco and other salesmen already working for Stencilco were receiving and the ready availability of the stenciling product which Stencilco purportedly manufactured.  In reality, almost all of the money coming into the business came from the salesmen-investors who paid Nezer for their positions, and not from the sale of stenciling products or services.  After Stencilco closed its doors in late 2002, Nezer opened a car restoration business called Classic Muscle Restoration, which went bankrupt and has also shut down. 
            Chief District Judge Todd Campbell rejected Nezer's request for a one year sentence, noting the amount of loss to the victims in this case and Nezer's multiple prior convictions for various degrees of  theft, obtaining property with worthless checks, and operating an illegal gambling house.  Judge Campbell also directed that Nezer be supervised by the federal probation office for three years following his prison sentence, during which time Nezer must make best efforts to pay restitution to his victims.
            "Federal law enforcement authorities are well aware that legitimate business ventures can always fail, and fully informed investors assume a certain amount of risk that they will lose their money" said U.S. Attorney Martin.  "However, if, as in Mr. Nezer's case, someone uses the mail or wire communication to acquire investment money by lying, they are committing fraud.  It is criminal to obtain investment money dishonestly, even if the person obtaining the money believes the business will succeed and they will eventually turn a profit for the investor.  When sufficient  evidence supports it, the U.S. Attorney's office will continue to prosecute and seek appropriate punishment for such people."                                                                                                 
           
            The case was investigated by the FBI and prosecuted by Assistant U.S. Attorney Hilliard Hester.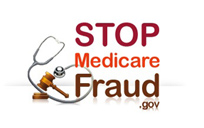 Stop Medicare Fraud
The U.S. Department of Health and Human Services (HHS) and U.S. Department of Justice (DOJ) are working together to help eliminate fraud and investigate fraudulent Medicare and Medicaid operators who are cheating the system.