Bogus Real Estate Financier Sentenced to 41 Months in Prision
THURSDAY, JANUARY 13, 2011
Steven Collins, 57, of Chattanooga, Tennessee, was sentenced yesterday in United States District Court  to 41 months in prison for his role as the leader of a fraudulent real estate-financing business, announced Jerry E. Martin, U. S. Attorney for the Middle District of Tennessee.  Collins' sentence follows his guilty plea on August 3, 2010 to one count each of mail fraud and wire fraud.
            Collins, using one of several false identities, operated Associates Capital Trust or "ACT."  ACT purported to be a hard-money lender, a type of lender that obtains funds from private investors to finance projects unable to obtain financing on the traditional mortgage market.  Advertising through ACT's website, Collins claimed that ACT was an "association of professional investment funds and syndicated capital trust accounts created to invest in commercial real estate" and had more than 20 years of experience in commercial real estate. 
            In reality, however, ACT was a sham business existing only as a website, post office box, and Collins' cell phone.  Based on Collins' various misrepresentations, prospective borrowers would provide ACT thousands of dollars intended to go to "third-party vendors" performing "due diligence" on the borrowers' real estate projects.  Instead of using that money as claimed, Collins misappropriated it for his own personal use.  After repeatedly delaying the purported financing with various excuses, Collins would eventually cancel the borrowers' contracts with ACT and refuse to refund the fraudulently obtained money, sometimes even sending a final invoice for additional "services" that had never been performed.
            At sentencing, Senior United States District Judge John Nixon noted Collins' lengthy criminal record and commented that he had led "a life of deception."  Finding Collins' claims of remorse "not credible," the court sentenced him to 41 months in prison, followed by three years of supervised release, and ordered restitution to the victims.
            "Fraud comes in all shapes and sizes, and the Internet is particularly fertile ground for scam artists," said United States Attorney Jerry E. Martin.  "The U.S. Attorney's Office is pleased that this defendant will not be able to defraud any more innocent victims while in prison, and we stand ready with our law-enforcement partners to bring to justice those who perpetrate similar frauds."
            The case was investigated by agents with the United States Postal Inspection Service.  The United States is represented by Assistant U.S. Attorney Ty Howard.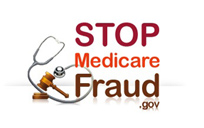 Stop Medicare Fraud
The U.S. Department of Health and Human Services (HHS) and U.S. Department of Justice (DOJ) are working together to help eliminate fraud and investigate fraudulent Medicare and Medicaid operators who are cheating the system.