Former Tennessee Department of Transportation Employee Charged with Soliciting and Accepting Bribes from TDOT Sub-Contractor
James Douglas Hagar, 59 of Mt. Juliet, Tennessee, a former employee of the Tennessee Department of Transportation (TDOT), was charged this week in a one-count Information with soliciting and accepting $30,000 from a TDOT sub-contractor, in connection with a 2005 TDOT construction project, announced Jerry E. Martin, U.S. Attorney for the Middle District of Tennessee. Joining Martin in the announcement were Robert E. Cooper, Tennessee Attorney General; Marlies T. Gonzalez, Special Agent in Charge, U.S. Department of Transportation, Region 4 and Mark Gwyn, Director, Tennessee Bureau of Investigation (TBI).
If convicted, Hagar faces up to 10 years in prison and a $250,000 fine.
"Public employees hold a position of trust for the citizens of Tennessee and the United States. This case shows that federal law enforcement agencies and their partners will pursue those who engage in corrupt practices involving programs that receive federal money to ensure the integrity of public programs," stated U.S. Attorney Martin. "Individuals who violate that trust seriously undermine the public's confidence in their governments."
According to the Information, from 2001 through 2005, TDOT received more than $10,000 per year in benefits from a federal program as part of building and maintaining public roadways. One of the road projects involved widening a stretch of Interstate 65 between Dickerson Pike and Old Hickory Boulevard in Davidson County, Tennessee. Part of the work on that section of roadway included installing, repairing and replacing "impact attenuators" which are devices intended to reduce the damage done by a motor vehicle collision. The attenuator is designed to absorb an errant motor vehicle's kinetic energy and/or redirect an errant motor vehicle away from a hazard or from machinery or workers engaged in road work.
The original contract between the state and the road building contractor provided for the installation of five attenuators at a cost of $16,000 each to the state. However, based on Hagar's recommendation, the installation of 17 additional attenuators was approved by TDOT that resulted in the state paying an additional $272,000 on this particular road project. Hagar corruptly solicited and accepted $30,000 from a principal/employee of the sub-contractor that provided and installed the attenuators in connection with Hagar's recommendations that TDOT approve the additional attenuators.
"I am pleased that the close cooperation and hard work by TDOT, my office and state and federal law enforcement over the past several years has borne this fruit," Attorney General Cooper said. "We will not tolerate those who seek illegal private gain from public service."
"The court filing is the culmination of several years of cooperative work by state and federal officials to address alleged inappropriate conduct," said TDOT Commssioner John Schroer. "We understand the great trust placed in us by the people of Tennessee to perform our duties responsibly and ethically, and serve as good stewards of taxpayer dollars. Unethical, corrupt, or criminal behavior on the part of TDOT employees will not be tolerated."
The investigation of this case was part of a task force that included the United States Department of Transportation - Office of Inspector General, the TBI, the Tennessee Attorney General's Office and the United States Attorney's Office. The Tennessee Department of Transportation assisted in the investigation. The United States is represented by Assistant U.S. Attorneys Jimmie Lynn Ramsaur and Matthew J. Everitt.
The public is reminded that an Information is merely an accusation and is not evidence of guilt. All defendants are presumed innocent unless and until proven guilty in a court of law.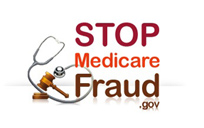 Stop Medicare Fraud
The U.S. Department of Health and Human Services (HHS) and U.S. Department of Justice (DOJ) are working together to help eliminate fraud and investigate fraudulent Medicare and Medicaid operators who are cheating the system.