Crossville Man Found Guilty on Tax Charges
A federal jury in Nashville returned a guilty verdict on January 19, 2011 against Luther T. Smith, 62, of Crossville, Tennessee, announced Jerry E. Martin, U.S. Attorney for the Middle District of Tennessee, and John A. DiCicco, Acting Assistant Attorney General, Department of Justice – Tax Division.  Smith was found guilty on two counts of income tax evasion and one count of filing a false income tax return with the Internal Revenue Service (IRS).  Smith faces a maximum penalty of 13 years in prison and a fine of $750,000, plus the costs of prosecution, when he is sentenced on April 11, 2011, by U.S. District Judge William J. Haynes, Jr.
            The guilty verdicts were returned after a week-long trial before Judge Haynes that began on January 12, 2011.  During the trial, evidence revealed that Smith, an independent life insurance agent, failed to report income received during 2001, 2002, and 2003.  For 2001, Smith filed a tax return that under reported his income by approximately $91,000.  For 2002, evidence showed that although Smith had income of approximately $710,000, he failed to file a tax return with the IRS.  For 2003, Smith filed a tax return that reported a loss of approximately $589,972, when evidence revealed his actual loss for that year was only approximately $127,000.  Testimony showed that Smith failed to report over $1 million in income for all three years.
            The government argued during trial that during 2001, 2002, and 2003, Smith lived a lavish lifestyle.  Smith purchased a property on Franklin Road in Franklin, Tennessee, paying in excess of $107,000 for decorations and furnishings in 2003.  Additionally, Smith paid for cruises for friends and family members, rented two apartments in Nashville, and purchased appliances, electronics, furniture, and fine jewelry, including a Rolex watch.
            "Taxpayers cannot lie to avoid paying their taxes, nor can they hide assets to evade taxes," said United States Attorney Jerry E. Martin.
            "There is no secret formula that can eliminate a person's tax obligations.  This verdict reinforces our commitment to every American taxpayer that the IRS is working to make sure that all taxpayers file and pay their fair share of taxes.  As we begin this tax filing season, those who might consider preparing false tax returns should be aware of the extremely negative consequences as evidenced by this verdict," said Christopher Pikelis, Special Agent in Charge of the IRS Criminal Investigation Nashville Field Office. 
            The investigation was conducted by IRS Criminal Investigation.  Assistant U.S. Attorney Darryl A. Stewart and DOJ-Tax Trial Attorney Kathryn Ward represented the government.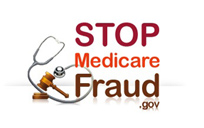 Stop Medicare Fraud
The U.S. Department of Health and Human Services (HHS) and U.S. Department of Justice (DOJ) are working together to help eliminate fraud and investigate fraudulent Medicare and Medicaid operators who are cheating the system.