atlanta and Nashville Diagnostic Testing Companies Ordered to Pay More Than $11 Million in Damages for Violations of the Federal False Claims Act
October 24, 2011
Three Bio Imaging Clinics in Middle Tennessee Included in Fraudulent Claims Submissions
Jerry E. Martin, United States Attorney for the Middle District of Tennessee, announced today that a federal court awarded the United States $11,110,662.71, plus interest, after finding that MedQuest Associates, Inc., BioImaging of Cool Springs, BioImaging at Harding (now Edmondson), and BioImaging at Charlotte (collectively referred to as "MedQuest"), recklessly disregarded federal law when billing the Medicare program for diagnostic tests when using contrast (dye injected in the patient's body) for MRI and CT scans during 2004-2006.
MedQuest Associates, Inc., headquartered in Alpharetta, Georgia, operates approximately 90 diagnostic testing centers in 13 states, including the three BioImaging clinics at Charlotte, Harding (now Edmondson Pike), and in Cool Springs. All of its centers are Medicare providers.
After reviewing the evidence submitted in summary judgment motions by both parties, United States District Court Judge William J. Haynes, Jr. held that defendants submitted fraudulent claims to Medicare when using physicians to supervise the administration of contrast to patients during diagnostic scans where the physicians were never approved by Medicare as having the proficiency required by Medicare regulations. Although MedQuest had provided Medicare with the names of certain physicians who would be providing the necessary direct supervision, defendants used other physicians who were never disclosed to Medicare for the claims submitted in this case.
Judge Haynes also held that defendants violated the False Claims Act by submitting claims for services at BioImaging at Charlotte, after defendants purchased the Charlotte business from the physician-owner. After the purchase, defendants, who are not physicians, continued to bill the Medicare program for diagnostic services using the Medicare number of the previous physician- owner for the next18 months, rather than enroll as an independent diagnostic testing facility as required by Medicare.
"This Office is committed to pursuing those who fraudulently bill government health care programs and will pursue treble damages and extensive penalties for each fraudulent claim as provided by federal law," said Jerry E. Martin, United States Attorney. "Health care fraud continues to be a priority of this office as reflected by our resources dedicated to this national problem."
"Medquest's taking advantage of the taxpayer-funded Medicare program, as the government alleged in this case, cannot be ignored," said Derrick L. Jackson, Special Agent in Charge of the U.S. Department of Health and Human Services, Office of Inspector General's Atlanta Region. "We, along with our law enforcement partners, will pursue false claims cases that return sorely-needed dollars to government health care programs."
This case is another example of the United States' emphasis on combating health care fraud. The partnership between the United States Department of Justice and the Department of Health and Human Services has focused efforts to reduce and prevent Medicare and Medicaid financial fraud through enhanced cooperation. One of the most powerful tools in that effort is the False Claims Act, which the Justice Department has used to recover more than $5.9 billion since January 2009 in cases involving fraud against federal health care programs. The Justice Department's total recoveries in False Claims Act cases since January 2009 are more than $7.5 billion.
The United States was represented in this case by Assistant U.S. Attorney Lisa S. Rivera.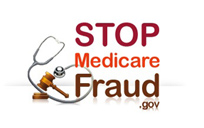 Stop Medicare Fraud
The U.S. Department of Health and Human Services (HHS) and U.S. Department of Justice (DOJ) are working together to help eliminate fraud and investigate fraudulent Medicare and Medicaid operators who are cheating the system.