Gordonsville Man Sentenced in Federal Court on Child Pornography Charges
November 21, 2011
            Michael D. Smith, 31, of Gordonsville, Tenn. was sentenced on November 17, 2011 by Senior United States District Judge John T. Nixon to serve 97 months in prison for receipt of child pornography, announced Jerry E. Martin, U.S. Attorney for the Middle District of Tennessee. 
            Smith was indicted on September 1, 2010 on various child pornography charges, including receiving child pornography,  possessing a computer and computer media that contained images and videos of child pornography and attempting to transfer obscene material to another individual who had not obtained the age of sixteen.  Smith pleaded guilty to one count of receiving and attempting to receive child pornography on May 12, 2011.  After the completion of his sentence, Smith will be placed on 10 years supervised release.  He was also ordered to pay $6,000.00 in restitution to three victims identified in his pornographic collection.
            Smith's pornographic collection contained 827 images and 33 videos of child pornography, including depictions of violence.  Smith was discovered by law enforcement when an undercover agent from the Tennessee Bureau of Investigation posed as a 14-year-old female in an internet chat room.  Smith engaged in sexually explicit conversation with the undercover agent and on the same day, he was discovered by an undercover deputy with the Bradley County Tennessee Sheriff's Department, who was also posing as an underage female in an internet chat room.  Smith's three-year-old daughter was in his residence during the time he was engaging in this activity.

            This investigation was conducted by the Tennessee Bureau of Investigation, the Bradley County Sheriff's Department- Internet Crimes Against Children Task Force and the Smith County Sheriff's Department.  Assistant U.S. Attorney Lynne T. Ingram represented the government.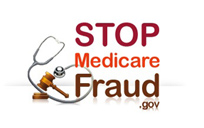 Stop Medicare Fraud
The U.S. Department of Health and Human Services (HHS) and U.S. Department of Justice (DOJ) are working together to help eliminate fraud and investigate fraudulent Medicare and Medicaid operators who are cheating the system.