Eight Charged in Connection with Violent Home Invasion Robberies
December 16, 2011
            Local, state and federal law enforcement officers, this morning,  began rounding up eight individuals named in a federal complaint unsealed today, charging them with conspiracy to commit Hobbs Act Robbery, announced Jerry E. Martin, U.S. Attorney for the Middle District of Tennessee.  Joining Martin in the announcement were Glenn N. Anderson, Special Agent-in Charge, (SAC) ATF-Nashville Field Division; Mark Gwyn, Director, Tennessee Bureau of Investigation; Steve Anderson, Chief, Metropolitan Nashville Police Department; Mike Walker, Chief, Lavernge Police Department; and, Steve Hopper, Sheriff of Smith County, Tennessee.
            The charges relate to home invasion robberies, one of which occurred on June 10, 2011 in Lavernge, Tenn., where a woman was pistol whipped and severely beaten by several individuals after forcing their way into her home.   The suspects ransacked the home and left the woman pleading for them to spare her life. 
            The other home invasion occurred on June 27, 2011 in Elmwood, Tenn., where the door of a home was kicked open and several armed gunmen assaulted the occupants, tied them up and ransacked the house.   A struggle with the suspects later ensued and the suspects fired several rounds at the occupants, critically injuring one of them.  
            "The U.S. Attorney's Office and our law enforcement partners will work tirelessly to identify, apprehend and prosecute those who commit such violent acts in our communities," said U.S. Attorney Jerry Martin.  "We will not stand for these acts of violence and these arrests should send a clear message that we are committed to seeking justice for those responsible."                                                                                                
            "Today's arrests and enforcement action demonstrates that ATF and our state and local partners will not tolerate such violent, criminal activity," said ATF SAC Glenn Anderson. "The violent home invasion robberies charged in this case strike at the heart of public safety. No family, regardless of where they reside in our community should live in fear of being attacked, beaten and shot within their own residence. ATF will continue to focus our efforts on those violent members of society who choose to utilize firearms to commit acts of violence."
"The excellent police work of South Precinct officers and our Gang Unit led to a wealth of information that contributed greatly to the ultimate charges against the defendants," Nashville Police Chief Steve Anderson said. "The partnership between all of the law enforcement agencies involved in this case should be a clear indication to all that we are united to identify and prosecute violent criminals regardless of county boundaries."      
Those charged in connection with both home invasions are:
            Manila Vichitvongsa, aka Manee, aka Nelly, 25, of Nashville, Tennessee;
            Nickless Whitson, 33, of Antioch, Tennessee;
            Sithana Keonoi, 25, of Lavergne, Tennessee;
            Jatavius Sanders, 21, of Antioch, Tennessee;
            Beth Keonoi, 20, of Ashland City, Tennessee;                                                         
            Jessica Parker, 22, of Camden, Tennessee is charged in connection with the Lavergne, Tennessee             home invasion only.
            Additionally, the following individuals are charged in connection with the home invasion in Elm             Springs, Tennessee, only:
            William, Blake Byrd, 26, of Antioch, Tennessee; and

            Angela Whitson, 37, of Antioch, Tennessee.
            All defendants are in custody as of Friday afternoon.  If convicted, all face up to 20 years in prison             and a $250,000 fine.
            This case was investigated by the ATF, the TBI, the Lavernge Police Department, the Smith County Sheriff's Department and the Metropolitan Nashville Police Department.  The government is represented by AUSA Phillip Wehby.
            A complaint is merely an accusation and is not evidence of guilt.  All defendants have the right to a trial by jury, at which the government must bear the burden of proof beyond a reasonable doubt.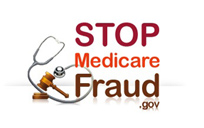 Stop Medicare Fraud
The U.S. Department of Health and Human Services (HHS) and U.S. Department of Justice (DOJ) are working together to help eliminate fraud and investigate fraudulent Medicare and Medicaid operators who are cheating the system.