Three Men Sentenced to Federal Prison in Connection with July 2011 Gunfight Near Hadley Park
December 2, 2011
Investigation Continues Into Violent Gun Battle
            Finis Lewis, 33, aka Gangsta Bit, Quinten Smith, 26, aka QT, and Corey Lynn Smith, 26, all of Nashville, Tennessee, were sentenced yesterday to federal prison for crimes related to a shootout near Hadley Park in Nashville, Tennessee on July 11, 2011, announced Jerry E. Martin, U.S. Attorney for the Middle District of Tennessee.                  
            Finis Lewis pleaded guilty to being a felon in possession of a firearm and ammunition, as well as illegally possessing a firearm with an obliterated serial number, and was sentenced to 80 months in prison.  Quinten Smith pleaded guilty to unlawfully possessing a firearm after being convicted of a misdemeanor crime of domestic violence, and was sentenced to 36 months in prison.  Corey Smith pleaded guilty to being a felon in possession of a firearm and with making false official statements to federal agents, and was sentenced to 80 months in prison.  There is no parole in the federal system.   After the completion of their prison terms, each defendant will be on supervised release for an additional three years.  Violating the conditions of supervised release can result in them being returned to prison.
            In announcing the sentences, Chief United States District Judge Todd Campbell said that the simple title of the crimes did not reflect the seriousness of the incident, which he characterized as a "very violent scene."  All three defendants remain in custody and will be transported to federal prisons to serve their sentences.  Although the defendants asked Judge Campbell to recommend that they serve their sentences close to Nashville, Judge Campbell declined to make such a recommendation after opposition from the prosecution, noting that further offenses by the defendants remain under investigation and that the gang involvement in this case warranted giving the Bureau of Prisons full discretion to send them to a suitable prison anywhere in the country.   

"This was a speedy response to a violent situation which endangered not only the people involved in the gun battle, but also completely innocent bystanders who happened to be in that area, stated U.S. Attorney Jerry Martin .  The investigation into this incident as well as other gang related activity continues, and we welcome any information which will identify any one else who was involved."
            According to the statement of facts for these plea agreements, each of the three defendants participated in the July 11, 2011 shootout while illegally possessing firearms in violation of federal law.  On that day, at approximately 2:45p.m., a shooting occurred on Albion Street in Nashville, across from Hadley Park.  Investigators determined that over 100 rounds were fired from at least four separate caliber firearms during the incident.  As a result of the shooting, Clarence Claybrooks aka Lil' Bo was killed and one defendant, Corey Smith, was critically injured.  The deceased, who was wearing gloves, had an AK-47 rifle at his feet.   Other  homes, and a vehicle, occupied by innocent persons not involved in the dispute, were hit by gunfire from the defendants charged in this case.  Defendants Finis Lewis and Corey Lynn Smith were also shot during this incident.
            The investigation into this incident continues by the Metropolitan Nashville Police Department and the ATF.  Assistant United States Attorney Sunny A.M. Koshy is representing the government.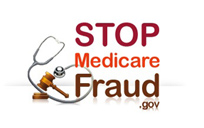 Stop Medicare Fraud
The U.S. Department of Health and Human Services (HHS) and U.S. Department of Justice (DOJ) are working together to help eliminate fraud and investigate fraudulent Medicare and Medicaid operators who are cheating the system.