clarksville Man Sentenced to 121 Months in Prison
Gary Olivas, 62, of Clarksville, Tennessee, was sentenced on February 3, 2011 to serve 121 months in prison for convictions on two counts of an indictment charging him with receipt of child pornography and possession of child pornography, announced Jerry E. Martin, United States Attorney for the Middle District of Tennessee, and Mark Gwyn, Director of the Tennessee Bureau of Investigation.  After the completion of his prison sentence,  Olivas will remain on supervised release for life.
            According to testimony at the sentencing hearing, the collection of child pornography recovered from the residence of Olivas in July,  2009, was the largest collection recovered in any case investigated by the Tennessee Bureau of Investigation's Joint Cybercrime Task Force during its three and a half years of existence. According to court findings, the collection included approximately 25,434 still images and approximately 1,161 videos depicting child pornography.
            "Protecting children from the menace of child pornography and the danger posed by sexual predators remains a top priority of the Department of Justice and its partners in the Tennessee Bureau of Investigation and local law enforcement," stated United States Attorney Jerry E. Martin.
            Evidence at the sentencing hearing also established that Olivas had engaged in simulated sexual activity with two unidentified children, under the age of nine, in his care. 
           
            This case was investigated by agents of the Tennessee Bureau of Investigation, and by the Franklin Police Department.  The United States was represented in the case by Assistant United States Attorneys Byron Jones and Carrie Daughtrey.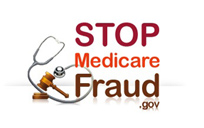 Stop Medicare Fraud
The U.S. Department of Health and Human Services (HHS) and U.S. Department of Justice (DOJ) are working together to help eliminate fraud and investigate fraudulent Medicare and Medicaid operators who are cheating the system.