VA Employee and TSU professor Sentenced to Eight Months in Prison
James Gary Linn, 64, of Nashville, Tennessee was sentenced today by Chief U.S. District Judge Todd Campbell to eight months in prison, followed by a two-year term of supervised release with a special condition that the first seven months be served in home confinement, announced Jerry E. Martin, U.S. Attorney for the Middle District of Tennessee.  The Court further ordered that Linn pay $21,351.97 in restitution to the government, a $4,000.00 fine and a $200.00 special assessment. Linn was found guilty of theft of government funds and making false statements to federal agents, on November 5, 2010, following a three-day jury trial. 
            Linn, a full-time employee with the Department of Veterans Affairs (VA) Medical Center in Nashville, was at the same time employed as a full-time tenured professor at Tennessee State University (TSU). Linn concealed his TSU employment from the VA, and provided false information to TSU that he was not employed with any other employer and that he conducted business with the VA after normal TSU business hours. Similarly, Linn  falsely represented to the VA that he was not employed with any other employer and that he performed teaching duties for TSU only after normal VA business hours. In truth, Linn's VA and TSU schedules conflicted and required that he be present at both places at the same time. Linn was paid full salary and benefits from both the VA and TSU. When approached by federal agents, Linn made false statements in an attempt to conceal his dual employment.
                                                                                    The case was jointly investigated by the VA Office of Inspector General and the Internal Audit Division, Tennessee State University. The government was represented by Assistant U.S. Attorney Darryl Stewart.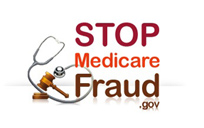 Stop Medicare Fraud
The U.S. Department of Health and Human Services (HHS) and U.S. Department of Justice (DOJ) are working together to help eliminate fraud and investigate fraudulent Medicare and Medicaid operators who are cheating the system.