New Hampshire Man Indicted and Arrested for Wire Fraud, Mail Fraud, and Aggravated Identity Theft at former Tennessee Company
Stephen McLaughlin, 44, of Pelham, New Hampshire, was arrested this morning by agents from the FBI's Bedford, New Hampshire Resident Agency and officers from the Pelham, New Hampshire Police Department, on charges of wire fraud, mail fraud, and aggravated identity theft,  announced  Jerry E. Martin, U.S. Attorney for the Middle District of Tennessee, and Amy Hess, Special Agent in Charge (SAC) of the Memphis Division of the FBI.  McLaughlin was indicted on February 23, 2011, by a federal grand jury in Nashville, Tennessee for engaging in fraudulent activity while working as the president of his former company, EquipLinq Co., 
            According to the indictment, as the president of EquipLinq, McLaughlin was responsible for obtaining construction equipment inventory for the company to lease to its customers.  EquipLinq typically used credit to finance its acquisition of such inventory.  On at least four occasions, McLaughlin caused forged signatures of EquipLinq investors to be used to secure financing for the company's purchase and/or lease of construction equipment inventory.  The indictment also charges McLaughlin with aggravated identity theft based on the use of the forged signatures without lawful authority.  Through this fraudulent course of conduct, McLaughlin is alleged to have caused investor and creditor losses exceeding $100,000.   
       
            This case is being investigated by agents of the FBI, Nashville, Tennessee Resident Agency.  Assistant United States Attorney Matthew J. Everitt is representing the government.
            An indictment is merely an accusation and is not evidence of guilt.  The defendant is presumed innocent until and unless proven guilty.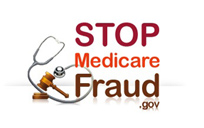 Stop Medicare Fraud
The U.S. Department of Health and Human Services (HHS) and U.S. Department of Justice (DOJ) are working together to help eliminate fraud and investigate fraudulent Medicare and Medicaid operators who are cheating the system.