barron a. mathis sentenced to 72 months in prison for role in j.C. reed & co. investment fraud ponzi scheme
May 24, 2011
Barron A. Mathis, 30, of Franklin, Tennessee, former Vice President and Portfolio Manager of J.C. Reed & Co., Inc. (J.C. Reed), was sentenced on Friday, May 20, 2011, by United States District Court Judge Aleta Trauger to 72 months in prison, and ordered to pay $2,823,091.06 in restitution, announced Jerry E. Martin, United States Attorney for the Middle District of Tennessee. Joining Martin in the announcement were Martin P. Phanco, Inspector in Charge, United States Postal Inspection Service; and Amy S. Hess, Special Agent in Charge of the FBI's Memphis Division.
"Mathis stole the hard-earned money of individuals without any consideration for the destruction caused to the lives of his victims," United States Attorney Jerry E. Martin said. "Mathis repeatedly encouraged people to invest by falsely promising security, growth and returns on their money, but instead the investors lost their savings as part of an elaborate Ponzi scheme. The United States Attorney's Office will continue to diligently and aggressively prosecute the perpetrators of such schemes."

Mathis served at various times as a director, vice president, president, and portfolio manager of J.C. Reed, a financial services company located in Franklin, Tennessee. J.C. Reed operated a residential mortgage originating business and brokered, through wholly-owned subsidiary companies, a variety of marketable securities, including certificates of deposit, private placements, partnerships, and mutual funds, to individuals in the Middle District of Tennessee and elsewhere. John C. Reed, now-deceased, was a financial adviser and founder of J.C. Reed. Prior to his death on or about June 7, 2008, Reed served as chief executive officer, president, chairman, and principal shareholder of J.C. Reed.
Between 2006 and 2008, Mathis conspired with Reed to devise a scheme to defraud investors who deposited funds with J .C. Reed by soliciting and obtaining money from clients, friends, and acquaintances and falsely promising to invest and manage the money in growth-oriented, traditional instruments, such as investments with fixed annual returns, or in established marketable securities. Individuals were solicited by Mathis via email, telephone calls, and letters in which Mathis falsely encouraged investors to purchase J.C. Reed stock. Mathis represented that the stock was a safe investment; however, Mathis was aware that the purchase of J.C. Reed stock was a high-risk investment and that J.C. Reed clients, who were mostly elderly and unsophisticated growth-oriented investors, would not have invested in the stock but for his false assurances.
In order to induce clients, friends, and acquaintances to invest in J .C. Reed stock, Mathis falsely assured them that J.C. Reed was profitable and "making money." However, as Mathis well knew, J.C. Reed was not profitable, and virtually all of its operating capital was received from shareholder investments. Mathis also falsely represented to investors that a market existed for J.C. Reed stock and that their investment in J.C. Reed stock would increase in value and be readily redeemable. However, Mathis knew that no market existed for J .C. Reed stock and that no realistic possibility existed for the redemption of J.C. Reed stock other than redemption by family or friends of Reed.
During the course of the scheme, Mathis and Reed conspired to intentionally inflate the value of J.C. Reed stock by creating several wholly-owned subsidiaries from which they arbitrarily reported "future" earnings. Mathis provided documents relating to the valuation of J.C. Reed subsidiaries to R.A. Stanger, a third-party stock evaluator. These documents materially exaggerated the value of J .C. Reed subsidiaries and were supplied, with Mathis' knowledge, with the intention that R.A. Stanger and Company would rely upon the exaggerated projected earnings to recalculate the value of J.C. Reed stock. R.A. Stanger reported the earnings information to National Financial Services, a wholly owned subsidiary of Fidelity Investments, a brokerage house in Boston, Massachusetts. Once National Financial Services received the stock evaluations from R.A. Stanger, the newly inflated stock prices were reported on Fidelity Investments brokerage statements as if they were an accurate valuation of J.C. Reed stock.
Although Mathis knew the valuation of J.C. Reed stock was inflated, he deliberately promoted the stock to new and prospective investors and encouraged further investment from existing clients by falsely representing that the value of J.C. Reed shares was increasing. Mathis also misled existing clients by falsifying account statements to show that the value of J.C. Reed shares was increasing, despite the lack of any reasonable basis for such increases. In fact, Mathis well knew that J.C. Reed had repeatedly suffered significant losses during the periods for which it had falsely projected large profits. Instead of disclosing the losses to investors, Mathis, through J .C. Reed, continued to manufacture and disseminate inflated projections that were intended to fraudulently increase the purported value of J .C. Reed shares.
After Reed's illness had rendered him incapacitated, Mathis assumed the primary role within J.C. Reed and was paid a commission for identifying and soliciting new clients for investment. Whenever he successfully solicited a new investor, Mathis would deposit the investor's funds into a "discretionary account" with J .C. Reed, thus enabling him to control purchases and sales within the account with few limitations. Mathis frequently used his discretionary authority to liquidate traditional investments from various client portfolios and used the funds to purchase shares of J.C. Reed stock, all without the knowledge or authorization of J.C. Reed clients. At various times, he also withdrew or liquidated assets from individual client accounts and used the funds to make investment purchases for the accounts of other clients or to open new client accounts. In order to disguise his unauthorized purchases and sales of client securities, Mathis created fraudulent invoices, forged client signatures on trading documents, and prepared fictitious account statements that falsely reported client investment holdings. Mathis caused these fraudulent documents to be mailed and wired to clients.

The case was investigated by the United States Postal Inspection Service, the FBI, the Tennessee Bureau of Investigation, and the Franklin Police Department. The United States was represented by Assistant United States Attorney John K. Webb.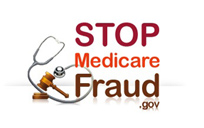 Stop Medicare Fraud
The U.S. Department of Health and Human Services (HHS) and U.S. Department of Justice (DOJ) are working together to help eliminate fraud and investigate fraudulent Medicare and Medicaid operators who are cheating the system.