bloods gang member in nashville pleads guilty to federal racketeering charge
June 21, 2011
A Nashville man pleaded guilty today to conspiring to participate in racketeering activity related to his membership in the Bloods criminal enterprise, announced Jerry E. Martin U.S. Attorney for the Middle District of Tennessee and Assistant Attorney General Lanny A. Breuer of the Justice Department's Criminal Division.
Antonio Washington, 22, aka "T.O.," pleaded guilty in Nashville before U.S. District Judge Aleta Trauger to one count of conspiracy to participate in racketeering activity.
According to court documents, Washington and other Bloods gang members and associates agreed to commit multiple acts of robbery, narcotics trafficking and bribery on behalf of the Bloods gang. Washington and numerous Bloods gang members met on a regular basis at various locations throughout the Middle District of Tennessee, including Shelby Park, Cedar Hill Park and the Galaxy Star Drug Awareness and Gang Prevention Center in Nashville, to report on gang-related business, collect dues, commit disciplinary actions against fellow gang members, discuss acts of violence against rival gang members, and initiate or "jump in" new members by beating them for a period of time, among other things.
Washington admitted that on March 28, 2010, during a joint Bloods gang meeting at Galaxy Star Drug Awareness and Gang Prevention Center, he and numerous other Bloods gang members voted to punish Bloods member Joedon Bradley. Following the vote, the Bloods gang members exited the building and formed a large circle in the backyard behind a wooden fence, where several groups of Bloods gang members violently assaulted Bradley. According to court documents, Bradley collapsed after being punched and kicked numerous times on his face and body.
Also according to court documents, on April 14, 2010, Washington and other known Bloods gang members and associates agreed to rob an individual of approximately 30 pounds of marijuana near Bud's Hardware Store in Nashville. Washington admitted that, armed with a pistol, he rode in a vehicle with several known Bloods gang members to commit the robbery. However, when Washington and the other Bloods gang members arrived at the location, they were unable to commit the robbery because of the presence of law enforcement in the area.
At sentencing, scheduled for Sept. 26, 2011, Washington faces a maximum penalty of life in prison and a $250,000 fine.
The case was investigated by the ATF, the Metropolitan Nashville Police Department, the Gallatin, Tennessee Police Department and assisted by the U.S. Marshals Service and the Davidson County, Tennessee District Attorney's Office.
The case is being prosecuted by Assistant U.S. Attorney Scarlett Singleton and Trial Attorney Cody L. Skipper of the Criminal Division's Organized Crime and Gang Section.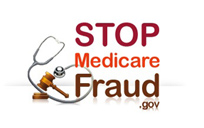 Stop Medicare Fraud
The U.S. Department of Health and Human Services (HHS) and U.S. Department of Justice (DOJ) are working together to help eliminate fraud and investigate fraudulent Medicare and Medicaid operators who are cheating the system.