Clarksville Man Sentenced to 20 Years in prison for interstate Cocaine Trafficking conspiracy
July 20, 2011
John Monzell Banks, 41, of Clarksville, Tennessee, pleaded guilty ON July 18, 2011, to participating in a drug trafficking conspiracy and was sentenced by Senior United States District Judge John Nixon to 20 years in prison, announced Jerry E. Martin, U. S. Attorney for the Middle District of Tennessee.
According to the statement of facts introduced at the hearing, Banks was involved in a conspiracy with co-defendants Adrian Patterson, Anthony Johnson, and Herman Majors to traffic over 100 kilograms of cocaine, between 2004 and 2006. Multiple kilograms of cocaine were obtained from suppliers in California and transported to the Clarksville area in vehicles with hidden compartments and in tractor trailers. The conspiracy also involved arranging for the distribution of large amounts of the cocaine once it arrived in Clarksville and providing stash houses to hide the cocaine.
In December 2004, Majors and another person were stopped for a traffic violation in Oklahoma by the Oklahoma Highway Patrol. Officers found 26 kilograms of cocaine in the vehicle and the subsequent investigation determined that this cocaine was being taken to Clarksville for Banks, Patterson, and others.
In December 2006, DEA agents and officers from the Clarksville Police Department executed a search warrant at a house in Clarksville, after they received information about a meeting between a California cocaine supplier and a cocaine buyer. Banks, Patterson, Johnson, and others were present at the house. Agents seized about $300,000 in cash, which was to be used to buy more cocaine, and also seized one kilogram of cocaine in that search.
This case was investigated by the DEA and the Clarksville Police Department. The government is represented by Asst. U.S. Attorney Sunny Koshy.
Patterson, Majors, and Johnson are awaiting trial, and are presumed innocent of the charge against them.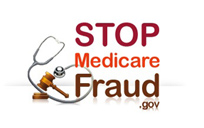 Stop Medicare Fraud
The U.S. Department of Health and Human Services (HHS) and U.S. Department of Justice (DOJ) are working together to help eliminate fraud and investigate fraudulent Medicare and Medicaid operators who are cheating the system.