California Man Sentenced to More than 10 Years in Prison for identity theft scam in Tennessee
July 7, 2010
Fourth of Six Defendants Sentenced
Sylvester Knight, 43, of Union City, California was sentenced to 124 months in prison yesterday for his role in a credit card fraud and identity theft scheme, announced Jerry E. Martin, United States Attorney for the Middle District of Tennessee, Sarah Beth Pulliam, Special Agent in Charge of the United States Secret Service's Nashville Office and Paul Armes, Federal Security Director, Transportation Security Administration (TSA).

According to testimony during the plea and sentencing hearings, Knight traveled to Nashville from San Francisco on February 1, 2010 with five other co-defendants, while possessing 977 gift cards that had been encoded with stolen credit or debit card account numbers. The defendants visited 13 Wal-Mart stores in the Nashville area and used 192 of those re-encoded gift cards to purchase 399 Wal-Mart gift cards and 227 Visa Green Dot gift cards, for approximately $100 each, resulting in a total loss of approximately $61,419. Testimony also revealed that the defendants had engaged in similar criminal activity in five other states, including California, New Mexico, Arizona, Nevada and Oklahoma, before being apprehended in Nashville.
On February 3, 2010, the defendants returned to the Nashville International Airport with reservations for a return flight to San Francisco. An airport TSA screener conducted a routine x-ray scan of the luggage belonging to one of the defendants and upon further inspection, discovered it contained hundreds of Wal-Mart gift cards. Law enforcement officials used a card reading device to examine the information encoded on the magnetic strips on the back of the gift cards and discovered that many of the gift cards were encoded with account numbers that did not match account numbers embossed on the fronts of the gift cards. Five of the six defendants were arrested at the airport and charged with various offenses relating to credit card fraud and identity theft and have pleaded guilty.
Three of Knight's co-defendants were sentenced on June 10, 2011. David Clay Lyles, Jr., 36, of Tracy, California was sentenced to 164 months in prison; Devin Leverett, Sr., 36, of Oakland, California was sentenced to 108 months in prison; and James Johnson, Jr., 25, of Oakland, California was sentenced to 94 months in prison. One co-defendant, Aisha Garrison, 31, of Oakland, California is awaiting sentencing. The remaining defendant, James Watson, 50, of San Leandro, California was apprehended on June 22, 2011 in California. James Watson is presumed innocent of the charges pending against him.

            This case was investigated by the Transportation Security Administration, the United States Secret Service, the Metropolitan Nashville Airport Authority and the Metropolitan Nashville Police Department. The United States is represented by Assistant United States Attorney Byron Jones.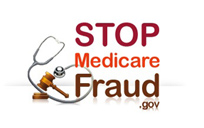 Stop Medicare Fraud
The U.S. Department of Health and Human Services (HHS) and U.S. Department of Justice (DOJ) are working together to help eliminate fraud and investigate fraudulent Medicare and Medicaid operators who are cheating the system.