Federal Jury Convicts Defendant on Child Pornography Offense
August 25, 2011
            Billy E. Nichols, Sr., 63, of Danville, Iowa, and formerly of Montgomery County, Tennessee, was convicted of production of child pornography by a federal jury after a two- day trial, announced Jerry E. Martin, U.S. Attorney for the Middle District of Tennessee. 
            The investigation of Nichols began in April 2009, after authorities learned that he had been taking nude photographs of a  seven -year -old child.  The Montgomery County Sheriff's Office, launched an investigation that resulted in the recovery of two computers, an external hard drive, and 60 compact discs.  A forensic examiner with the Dickson County Sheriff's Office found approximately 3,000 images and more than 100 videos of child pornography on each of Nichols'computers, the external hard drive, and 16 of the discs.  Among the child pornography found were a number of images of the victim, who was approximately five to six years of age at the time.
            "The United States Attorney's Office will continue to diligently and aggressively prosecute individuals who exploit children," said U.S. Attorney Jerry Martin.  "We are grateful for the relationships we have with our local law enforcement agencies who provided the lead in this case and prepared the excellent forensic report that has now resulted in the removal of this child predator from the community."                                   
            Nichols was subsequently charged with production of child pornography, and receipt and possession of child pornography, in the Middle District of Tennessee.  One count of the indictment charged that Nichols used a photo editing program to digitally alter images and place the head of a three to four year old relative onto the body of a child engaged in sexually explicit conduct.  Nichols pleaded guilty to the receipt and possession of child pornography on March 15, 2011, and elected to go to trial on the production of child pornography count of the indictment.
            Testimony at trial revealed that Nichols had taken nude photographs of the child on numerous occasions, something that her parents were unaware of until her disclosure.  The forensic analyst testified that the computers and media seized had been used almost exclusively by Nichols.
            Nichols faces a maximum penalty of 70 years in prison to be followed by supervised release ranging from five years to life.  Sentencing is scheduled for December 5, 2011 before Judge Aleta Trauger.

This case was investigated by the Montgomery County Sheriff's Office and the Dickson County Sheriff's Office.  The case was prosecuted by Assistant United States Attorneys S. Carran Daughtrey and Lynne T. Ingram.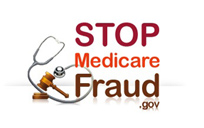 Stop Medicare Fraud
The U.S. Department of Health and Human Services (HHS) and U.S. Department of Justice (DOJ) are working together to help eliminate fraud and investigate fraudulent Medicare and Medicaid operators who are cheating the system.