Federal Jury Returns Guilty Verdicts In Drug Conspiracy
November 16, 2012
NASHVILLE, Tenn., November 16, 2012 - A federal jury returned guilty verdicts today on three defendants following a four -week trial, announced Jerry E. Martin, U.S. Attorney for the Middle District of Tennessee. 
                Travis Gentry, 32, of Prospect, Tenn. was convicted on all counts, including drug trafficking conspiracy involving the distribution of over five kilograms of cocaine, over 280 grams of crack cocaine and over 100 kilograms of marijuana; money laundering conspiracy; felon in possession of a firearm; possession of firearms in furtherance of a drug crime; three counts of drug distribution and possession with intent to distribute drugs. 
            Gentry's half-brother, Frank Dwayne Randolph a/k/a Tubbs, 48, of Pulaski, Tenn. was convicted of drug conspiracy; money laundering conspiracy; being an accessory after the fact to a drug conspiracy, and perjury.  Randolph was acquitted of the charge of possession of a firearm in furtherance of a drug crime.
            Gentry's cousin, Patrick Dewayne Smith, 33, of Madison, Alabama was convicted of all counts including, drug conspiracy involving 280 grams of crack cocaine and money laundering conspiracy.
            "We are pleased with the jury's verdicts in this case," said U.S. Attorney Jerry E. Martin.  "The verdicts handed down in this case should send a clear message to those who seek to profit by illicit drug distribution.  This conspiracy went on for more than five years and one defendant was recorded saying that there were no 'Feds' in that county.  The Middle District of Tennessee has some of the most talented and dedicated law enforcement officers and prosecutors in the nation and they are always willing to put forth the extra effort to see that justice is brought to bear on those who attempt to make their living in this manner-even in remote and rural areas of the state."
                According to the evidence at trial, numerous wiretapped calls showed that Travis Gentry was obtaining cocaine and marijuana from various suppliers, including Patrick Smith,  and an unidentified person known only as "G" who supplied Gentry with multiple kilograms of cocaine through FedEx/UPS shipments.  Gentry then cooked a large portion of the cocaine into crack cocaine to increase his profits, and then distributed the drugs in rural areas including Pulaski, TN and Athens, AL. 
            In March 2011, 20 persons were charged in the conspiracy, following a 15-month investigation by local, state and federal law enforcement.  Fifteen of the defendants have pleaded guilty and the remaining two defendants are scheduled for trial early next year.
            Multiple firearms, including several loaded assault rifles, were recovered from Frank Randolph's residence in Pulaski, TN, during the execution of search warrants.  Approximately $2100.00 in marked buy money, from a prior purchase of 4 1/2 ounces of cocaine from Travis Gentry, was also recovered from a bank safe deposit box held by Frank Randolph.
             A review of financial records also showed over $100,000.00 in deposits into Frank Randolph's accounts which were not accounted for by his payroll or declared business tax receipts from his business, Quality Window Tinting,  in Pulaski, Tenn.
             Testimony at trial also showed that Gentry had attempted to persuade witnesses not to appear for trial as required by their subpoenas. 
                The government filed motions for sentence enhancements on Gentry and Smith, based on the fact that both have prior felony drug trafficking convictions.  Travis Gentry faces at least 25 years in prison and Patrick Smith faces mandatory life in prison.
            The jury also rendered money forfeiture judgements in the amount of $750,000.00 each, against each defendant and ordered Frank Randolph to forfeit cash and financial accounts.
            All defendants will be sentenced by Judge Aleta Trauger in February 2013.
            The investigation was conducted by the  Drug Enforcement Administration, the Tennessee Bureau of Investigation, the Giles County Sheriff's Department, the Pulaski Police Department and the Bureau of Alcohol, Tobacco, Firearms & Explosives .  Assistant U.S. Attorneys Sunny A.M. Koshy and Alex Little prosecuted the case.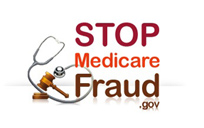 Stop Medicare Fraud
The U.S. Department of Health and Human Services (HHS) and U.S. Department of Justice (DOJ) are working together to help eliminate fraud and investigate fraudulent Medicare and Medicaid operators who are cheating the system.