Two Men Plead Guilty to Conspiring to Distribute Cocaine
February 2, 2012
Daniel Varajas, 36, and Sergio Barraza-Pinera, 31, both of Nashville, pleaded guilty on January 31, 2012 to conspiring to distribute more than five kilograms of cocaine, announced Jerry E. Martin, United States Attorney for the Middle District of Tennessee.
According to the complaint and factual basis presented at the plea hearing, Varajas and Barraza-Pinera met a truck driver near 6400 Centennial Blvd in Nashville, Tennessee and drove him to a warehouse area near 3100 Charlotte Pike, where they planned to transfer a large load of cocaine.  Later that day, they met the driver with his tractor trailer there. Varajas served as a lookout while Barraza-Pinera unloaded cocaine that had been hidden in a secret compartment in the tractor trailer.  Varajas and Barraza-Pinera were later arrested and agents seized approximately seventy (70) kilograms of cocaine.
During the course of the investigation, the agents identified two residences associated with the defendants, one in Nashville and the other in Goodlettsville, Tenn.  Subsequent searches of these houses, by agents, led to the discovery of firearms and thousands of dollars of drug proceeds.
Varajas and Barraza-Pinera are scheduled to be sentenced on April 16, 2012, by U.S. District Judge Kevin H. Sharp. Each defendant faces a sentence of not less than 10 years to life in prison and a $10 million fine.
This investigation was conducted by the DEA and the Metro Nashville Police Department - Specialized Investigations Division. Assistant U.S. Attorney Alex Little represented the government.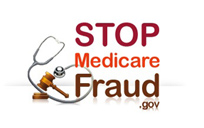 Stop Medicare Fraud
The U.S. Department of Health and Human Services (HHS) and U.S. Department of Justice (DOJ) are working together to help eliminate fraud and investigate fraudulent Medicare and Medicaid operators who are cheating the system.