Centerville Businessman Sentenced to 46 Months in Prison for Bank Bribery
February 3, 2012
            Roger Farley, 53, of Centerville, Tennessee was sentenced on January 31, 2012, to 46 months in prison and ordered to pay more than $1.2 million in restitution for his part in a conspiracy involving fraudulent loans and bribery of a local bank's loan officer, announced U.S. Attorney Jerry E. Martin.  Farley had previously pleaded guilty to one count of criminal conspiracy and one count of bank bribery.  Two co-defendants, Jarrod Jordan and Charles Mikan Harris, still await sentencing.
                                   
            "Small town corruption is no less serious than corruption in larger cities, and that is particularly so when it affects important financial institutions," said U.S. Attorney Jerry Martin.  "The U.S. Attorney's Office is pleased that the Court's sentence reflects the seriousness of this crime, which caused a substantial loss to the financial institution.  Like many financial investigations, this case required significant investigatory resources, and the Federal Bureau of Investigation and Internal Revenue Service Criminal Investigation are commended for their work. This office looks forward to working with them and all of our law-enforcement partners to continue to bring white-collar criminals to justice."
            At the earlier plea hearing, Farley admitted to his role in the conspiracy that lasted from February 2007 to August 2007.  Farley or Harris would approach Jordan, a loan officer at First Federal Bank's Centerville, Tennessee branch office, about a loan for a potential borrower. Although the potential borrower was unqualified to receive a loan, Jordan, Farley, and Harris would prepare false or misleading paperwork, and Jordan would ensure the loan was approved by the bank. Farley and Harris would later provide Jordan a bribe in the form of a cash payment, usually between $2,500 and $3,000 per loan. The majority of loans went to purchase properties or businesses owned by Farley or his wife.  As a result, Farley received over $1.2 million of the total loan proceeds.  The overall scheme involved 27 fraudulent loans, all of which defaulted, and resulted in a total loss to the bank of $1.8 million.
            At the sentencing hearing, Chief U.S. District Judge Todd J. Campbell found the seriousness of the offense and the amount of money Farley received to outweigh other sentencing considerations.  In addition to the 46-month sentence and restitution, Farley will be subject to two years of supervised release upon his release from prison.
                                                The case was investigated by the Federal Bureau of Investigation and the Internal Revenue Service Criminal Investigation. The United States was represented by Assistant U.S. Attorney Ty Howard.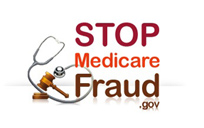 Stop Medicare Fraud
The U.S. Department of Health and Human Services (HHS) and U.S. Department of Justice (DOJ) are working together to help eliminate fraud and investigate fraudulent Medicare and Medicaid operators who are cheating the system.