Information for Potential Victims of Identity Theft from Clarksville-Montgomery County School System
June 12, 2012
Online Resources Available for Guidance
            According to press reports, an unknown group released personal identifying information for what they claim to be more than 14,500 students and employees of the Clarksville-Montgomery County School System.  Individuals who may have had their information compromised have been contacted by the school system and informed of the potential data breach. 
            In response to the data breach, U.S. Attorney Jerry E. Martin would like to remind the public of the online resources available to persons who believe their personal information has been compromised as well as tips on how to protect your identity from being stolen.
            If you believe that your information was compromised, there are numerous resources available online that can help you understand what steps to take to protect yourself against identify theft. This includes :                                                                                     
A guide from the Federal Trade Commission on what to do if your personal information has been compromised, but not yet misused:
And a guide on what steps to take if you learn that someone has misused your personal information: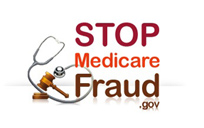 Stop Medicare Fraud
The U.S. Department of Health and Human Services (HHS) and U.S. Department of Justice (DOJ) are working together to help eliminate fraud and investigate fraudulent Medicare and Medicaid operators who are cheating the system.