Former CPA Pleads Guilty to Tax Charges
July 18, 2012
            Macon J. Dew, 64, of Old Hickory, Tennessee,  pleaded guilty on July 13, 2012,  to two counts of aiding and assisting in the preparation of false tax returns, announced Jerry E. Martin, U.S. Attorney for the Middle District of Tennessee.  Dew was charged with filing false tax returns on April 17, 2012.  He faces a maximum penalty of three years in prison and a fine of $250,000 on each count when he is sentenced on October 1, 2012. 
            Dew admitted that he was a Certified Public Accountant and operated a tax return preparation business.  He acknowledged that between 2001 and 2004, he prepared at least 33 false income tax returns for others.  The false items included fictitious W-2 forms, false Schedule C businesses, and fraudulent education credits.  Dew admitted that the tax loss from the filing of these false returns was at least $40,000.
            Additionally, Dew admitted that for the 2006 tax year, he prepared returns and relevant schedules for two individuals who formed a corporation known as CP Construction, LLC.   The returns reported a loss of $751,300 each, however no tax return was ever prepared for CP Construction, LLC for that same tax year.  These claimed losses resulted in a tax loss to the government of $165,535. 
            This investigation was conducted by IRS Criminal Investigation.  Assistant U.S. Attorney Jimmie Lynn Ramsaur represented the government.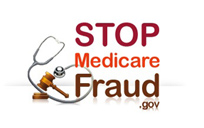 Stop Medicare Fraud
The U.S. Department of Health and Human Services (HHS) and U.S. Department of Justice (DOJ) are working together to help eliminate fraud and investigate fraudulent Medicare and Medicaid operators who are cheating the system.