Former IRS Employee Sentenced to Two Years in Prison for Identity Theft and Filing False Tax Returns
August 15, 2012
            George Albright, 57, of Antioch, Tenn., was sentenced today to serve two years in prison for using the names and identifiers of other persons to file fraudulent income tax returns, announced Jerry E. Martin, United States Attorney for the Middle District of Tennessee.  Albright pleaded guilty in May 2012 to one count of filing a false tax return and one count of using the identities of other persons to do so. 
            Albright, was employed by the IRS as a taxpayer service representative from1995 until March 2012.  He admitted that, between February 2008 and January 2011, he used his position as an IRS employee to obtain names and identifiers of taxpayers from IRS records and then used this information to file several fraudulent federal income tax returns.  Albright directed that the tax refunds from those returns, totaling $9,669.00, be electronically deposited into bank accounts under his control. 
            In imposing sentence, U.S. District Judge Todd Campbell noted that Albright, who has no prior criminal history, had engaged in an egregious abuse of public trust.
            "Tax fraud, or any crime committed by a government employee, occupies a high priority for federal investigators and prosecutors in this district," said U.S. Attorney Jerry Martin. "Anyone filing a fraudulent tax return and anyone employed in a position of public trust should take note of the prison sentence they risk if they engage in this sort of criminal conduct, even if they have no criminal record.  They should also be reminded that there is no parole in the federal system."
            Albright will remain under federal supervision for one year after completing his prison sentence.  He was also ordered to forfeit the computer equipment used in committing the crimes and will be required to repay the refunds he fraudulently obtained. 

The United States was represented in this case by Assistant U.S. Attorney Hilliard Hester.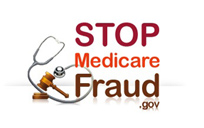 Stop Medicare Fraud
The U.S. Department of Health and Human Services (HHS) and U.S. Department of Justice (DOJ) are working together to help eliminate fraud and investigate fraudulent Medicare and Medicaid operators who are cheating the system.