Murfreesboro Resident Charged with Money Laundering
September 21, 2012
Indictment Alleges That Defendant Conducted Financial
Transactions With Criminally Derived Property           
Michael Whitsey, 49, of Murfreesboro, Tennessee, was indicted by a federal grand jury on Wednesday on charges of conspiracy to commit money laundering and 10 counts of money laundering, announced Jerry E. Martin, U.S. Attorney for the Middle District of Tennessee.  Whitsey faces a maximum penalty of 20 years in prison and a $500,000 fine .
            According to the indictment, from approximately May 14, 2008, through December 18, 2008, Whitsey conspired to conduct $375,000 in monetary transactions with proceeds criminally derived from a conspiracy to distribute narcotics. 
            The indictment also details 10 separate monetary transactions conducted by Whitsey  between May 2008 and December 2008 totaling $375,000.
            In the indictment, the government is seeking the forfeiture of $375,000 in U.S. Currency as proceeds of the offense and a piece of unimproved real property on proposed Agripark Drive in Rutherford County, Tennessee. 
            The case was investigated by agents with the IRS-Criminal Investigation and the DEA DrugTask Force. The United States is represented by Assistant U.S. Attorney Lynne T. Ingram. 
                                                            An indictment is merely an accusation and is not evidence of guilt. All defendants are presumed innocent unless and until proven guilty in a court of law.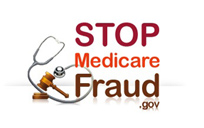 Stop Medicare Fraud
The U.S. Department of Health and Human Services (HHS) and U.S. Department of Justice (DOJ) are working together to help eliminate fraud and investigate fraudulent Medicare and Medicaid operators who are cheating the system.