Tennessee Prisoner Indicted for Anthrax Hoax
March 1, 2013
Indictment Alleges That Defendant Mailed Threatening Letters With White Powder
to State and Local Officials
Branden Frady, 32, of Johnson City, Tennessee, was indicted by a federal grand jury in Nashville yesterday, in a 10-count indictment charging him with sending threats through the U.S. Postal Service and conveying false information indicating the use or attempted use of Anthrax, announced Jerry E. Martin, U.S. Attorney for the Middle District of Tennessee.
According to the indictment, between September 10, 2012, and September 18, 2012, while Frady was a prisoner at Riverbend Maximum Security Institute in Nashville, he prepared and sent six threatening letters to Tennessee Governor Bill Haslam, Tennessee Secretary of State Tre Hargett, the U.S. Post Office, and an Assistant District Attorney General for the 20th Judicial District of Tennessee in Nashville. Four of the letters contained white powder that the defendant claimed was Anthrax. The letters also made explicit death threats against the officials.
"Threats involving the use of weapons of mass destruction cause significant disruption in the workplace and to government operations," said U.S. Attorney Jerry E. Martin.   "Such threats often exhaust public safety resources and cause needless harm to the public.  For those who choose to engage in such conduct, the U.S. Attorney's Office and our law enforcement partners will act swiftly to neutralize the threat, identify those responsible and bring them to justice."
One example alleged in the indictment is that Frady sent a letter from prison to the Office of the District Attorney General in Nashville, that arrived on September 11, 2012, and contained a white powder substance.  In the letter, Frady wrote, "here is some Anthrax," "you got to die," and "I will kill you."  In response to this letter, local law enforcement officers and firefighters responded to the scene, evacuated the offices of the Nashville District Attorney General, and closed nearby buildings.
It is also alleged in the indictment  that letters Frady sent to the Office of Governor Bill Haslam, Secretary of State Tre Hargett, and the U.S. Post Office contained similar threats.  For example, after sending a letter to the Governor that contained threats but without white powder, Frady sent a second letter to the Governor stating, "This time I am sending you some Anthrax," and "you will die."  This letter did contain a white powder.  The indictment also alleges that, in a second letter to the Office of the District Attorney General, Frady wrote: "I'm back," "Here is some Anthrax for real," and claimed that "there is a bomb being placed in the D.A. Office[,] the Governor Office and the Post Office in Nashville so you will blow up."                                                      
If convicted,  Frady faces a maximum sentence of five years in prison and a $250,000 fine for each count.
The case was investigated by the FBI, the Tennessee Highway Patrol, the Tennessee Department of Correction and the Metropolitan Nashville Police Department. Assistant United States Attorney Alex Little is representing the government.
An indictment is merely an accusation and is not evidence of guilt. Defendants are presumed innocent unless and until proven guilty in a court of law.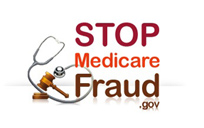 Stop Medicare Fraud
The U.S. Department of Health and Human Services (HHS) and U.S. Department of Justice (DOJ) are working together to help eliminate fraud and investigate fraudulent Medicare and Medicaid operators who are cheating the system.