OFFICE OF THE UNITED STATES ATTORNEY
NORTHERN DISTRICT OF WEST VIRGINIA
Sharon L. Potter
UNITED STATES ATTORNEY
1125 Chapline Street, Federal Building, Suite 3000 ● Wheeling, WV 26003
(304) 234-0100 ● Contact: Fawn E. Thomas, Public Affairs Specialist
April 19, 2009
FOR IMMEDIATE RELEASE

Special Events Celebrate the 25th Anniversary of Victims of Crime Act

WHEELING, WEST VIRGINIA — April 26 marks the beginning of National Crime Victims' Rights Week and several events are planned in Ohio County. To kick off this year's celebration, West Liberty State College and Wheeling Jesuit University have teamed up with the United States Attorney's Office and the West Virginia Hate Crime Task Force to sponsor a program entitled "Turning Away from Hate" on April 22 and 23.
According to United States Attorney Sharon L. Potter, the program will be presented by Tom "TJ" Leyden. A former neo-Nazi white supremacist activist and recruiter, TJ Leyden experienced a profound change of heart in 1996, turned away from hate, and began teaching tolerance. Leyden worked for 5 ½ years with the Task Force Against Hate at the Simon Wiesenthal Center. He has been a featured speaker at a White House Conference on Hate and has trained members of the Pentagon, Federal Bureau of Investigation, military, law enforcement, educators, and over 800,000 students. Leyden has stated that "we all need to be aware of the culture of hate that exists - otherwise we are powerless to fight against the violence and insanity that they create." A frequent speaker on college campuses, he will share his real-life experiences and advocate for the importance of diversity and cultural appreciation at:
Wheeling Jesuit University
Troy Theater in Swint Hall
Wednesday, April 22
7:00 p.m.
West Liberty State College
College Hall
Thursday, April 23
2:00 p.m.
USA Potter stated that "the public is welcome to attend these presentations. Although some of the material is disturbing and not suited for young children, Mr. Leyden's words are compelling and his message of tolerance and acceptance is certainly an appropriate focus for communities guarding against the influences of groups focused on hate and violence."

For the past 20 years, the West Virginia Hate Crime Task Force has been working to bring bias crimes to the attention of law enforcement and do what it can to prevent such crimes through training sessions and community awareness forums. The task force is comprised of representatives from government, law enforcement, citizens and civil rights groups. A hate or bias crime is generally defined as one which is motivated in whole, or in part, by hatred against a victim based on his or her race, religion, sexual orientation, ethnicity, national origin or disability. Various state and federal statutes are used by law enforcement when prosecuting these crimes.
Twenty-five years ago, the Victims of Crime Act was enacted which provided certain rights to victims of crime. Since 1984, other statutes such as the 1994 Violence Against Women Act and the 2004 Crime Victims' Rights Act further reinforced the rights of victims to participate in the judicial process.
The "Turning Away from Hate" programs here in Ohio County follow other initiatives held throughout the district which were sponsored by the United States Attorney's Office as a part of Project Safe Neighborhoods. Two anti-gang summits that focused on education and prevention of gang violence were held for community leaders, educators and law enforcement officers in Bridgeport and Shepherdstown and featured guest speakers from throughout the United States.

Potter noted that "these forums will hopefully spread the word that discrimination and hatred directed toward others will not be tolerated in West Virginia. Communities are taking proactive measures to protect our schools, neighborhoods and citizens from becoming footholds for gang violence. These forums educate the attendees about the detection of and prevention against gangs, whether a gang is defined as drug dealers protecting their territory, cyber-bullies threatening others on the internet, school yard bullies or those hate groups focused on violence toward specific members of society."
"We are very pleased for this opportunity to collaborate with the United States Attorney's Office to bring Mr. Leyden's message to our students," stated Christine A. Ohl-Gigliotti, Ph.D., Dean of Student Development, Wheeling Jesuit University. "His unique message of personal transformation - away from hate and to embracing the diversity found in our world - resonates with Wheeling Jesuit's emphasis on social justice and our commitment to educating students to be 'men and women for others.' We're looking forward to a powerful, thought-provoking presentation."
Tom Hostutler, Lieutenant, West Liberty State College Campus Police, stated, "we work hard at West Liberty to provide students and the community with educational opportunities like this program to pass along true-to-life stories that have an impact. We're looking forward to hearing Mr. Leyden's message."

Other events during Crime Victims's Rights Week include:
Monday, April 27 INFORMATIONAL FAIR & BLOOD DRIVE YWCA 9:00 - 2:00
An Informational Fair will be held at the YWCA in Wheeling. This event is a joint effort by several local agencies that provide services to victims of crime. These agencies, in addition to many others, will be present to share information and they include: Court Appointed Special Advocates (CASA), Harmony House, the Ohio Brooke Hancock Victim Assistance Program, the Ohio County Prosecutor's Office, the Sexual Assault Help Center, the United States Attorney's Office, and the YWCA Family Violence Prevention Program & Racial Justice Program.
There will be 150 children from the Northern Panhandle Head Start present who will receive educational programs to enhance awareness and prevention. These programs include: "Secrets" presented by Harmony House, "Know What To Do: Good Touch, Bad Touch" presented by Sexual Assault Help Center, "Internet Safety" presented by the United States Attorney's Office and "Hands Are Not For Hitting" presented by the YWCA Family Violence Prevention Program. Other activities for the children and public will also be available, such as a visit from "Spike" the Nailers Mascot, face painting, and various snacks and games provided by the Division of Corrections. There will be information available for adults as well regarding the Crime Compensation Fund, Domestic Violence, Identity Theft, Internet Safety for Parents, Sexual Assault and general information regarding assistance for crime victims.
The Informational Fair and Blood Drive is open to the public.

Tuesday, April 28 COURAGE & APPRECIATION AWARDS
A Courage Awards and Law Enforcement Appreciation Ceremony will be held at the Federal Building in Wheeling on April 28, 2009. The awards, being presented for the first time this year, will recognize the courage displayed by several victims and/or their families involved in several criminal cases prosecuted in federal court, and also honor the law enforcement officers who brought justice to those victims.

For more information on any of the events, please call Chris Mehler Frizzell, Victim Witness Coordinator at the United States Attorney's Office at (304) 234-0100.
WV Public Corruption
Hotline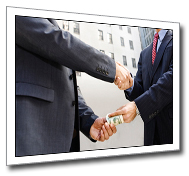 Call 1-855-WVA-FEDS or Email wvafeds@usdoj.gov if you have information about public corruption in your community.