OFFICE OF THE UNITED STATES ATTORNEY
NORTHERN DISTRICT OF WEST VIRGINIA
Sharon L. Potter
UNITED STATES ATTORNEY
1125 Chapline Street, Federal Building, Suite 3000 ● Wheeling, WV 26003
(304) 234-0100 ● Contact: Fawn E. Thomas, Public Affairs Specialist
July 21, 2009
FOR IMMEDIATE RELEASE

Former Credit Union CEO Arrested
Law Enforcement Officers Seize Local Business, Residence, Bank Accounts & Vehicles

WHEELING, WEST VIRGINIA — Law enforcement officers executed a Federal Arrest Warrant this morning and seized six vehicles, three bank accounts, one parcel of real estate, and posted a second parcel as property subject to forfeiture in Wheeling, Valley Grove, Bethany, and Parkersburg in connection with an ongoing investigation into the failure of Center Valley Federal Credit Union.
United States Attorney Sharon L. Potter announced that BERNIE D. METZ, age 56, of Valley Grove, West Virginia, was arrested early this morning on a Criminal Complaint charging her with embezzlement. Information contained in an Affidavit filed in support of the Criminal Complaint stated that there was probable cause to believe that METZ, who was the Chief Executive Officer and Manager of Center Valley Federal Credit Union, misappropriated monies from the Credit Union and diverted the embezzlement's proceeds to benefit herself, her husband, her children, and companies controlled by METZ and her husband.
METZ had an initial appearance today before Magistrate Judge James E. Seibert and was released on bond pending further proceedings. Conditions of her bond include: 1) METZ cannot obtain a passport; 2) Her travel is restricted to the Northern District of West Virginia, and to the Western District of Pennsylvania to meet with her attorney; and 3) METZ cannot transfer any assets without permission of the Court.
In addition to METZ's arrest, law enforcement officers executed seizure warrants and/or protective order on the following property and vehicles:
■ Commercial property, including a restaurant and cabins commonly known as the Roadworthy Restaurant and Tavern and/or the Roadworthy Resort located in West Liberty, West Virginia, owned by RHEA DAN Development LLC;
■ Residential property located in Valley Grove owned by METZ and her husband;
■ A 2005 Toyota Tundra;
■ A 2005 Mercedes vehicle;
■ A 2008 Mercedes vehicle;
■ A 2008 Toyota;
■ A 1970 Volkswagen CP;
■ A 2008 Chevrolet Tahoe; and
■ Three bank accounts held at Progressive Bank.

A Seizure Warrant has been obtained for a 2009 Mercedes SLK 300.

The charge in the Criminal Complaint carries a maximum penalty of 30 years imprisonment and a fine of $1,000,000.
According to USA Potter, the accounts of the Center Valley Federal Credit Union are insured by the National Credit Union Administration Board.
The case will be prosecuted by Assistant United States Attorneys Robert H. McWilliams, Jr. and Michael D. Stein. The case is being investigated by the Federal Bureau of Investigation, the Internal Revenue Service - Criminal Investigation Division, and the United States Marshals Service.

It should be noted that the charges contained in the Criminal Complaint are merely accusations and not evidence of guilt, and that each defendant is presumed innocent until and unless proven guilty.
WV Public Corruption
Hotline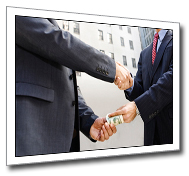 Call 1-855-WVA-FEDS or Email wvafeds@usdoj.gov if you have information about public corruption in your community.