OFFICE OF THE UNITED STATES ATTORNEY
NORTHERN DISTRICT OF WEST VIRGINIA
Sharon L. Potter
UNITED STATES ATTORNEY
1125 Chapline Street, Federal Building, Suite 3000 ● Wheeling, WV 26003
(304) 234-0100 ● Contact: Fawn E. Thomas, Public Affairs Specialist

March 4, 2009
FOR IMMEDIATE RELEASE

U. S. Attorney Recognizes Elkins Employee
ELKINS, WEST VIRGINIA – United States Attorney Sharon L. Potter recently recognized Cheryl J. Given as the recipient of the United States Attorney's Award for 2008.
According to Potter, the award, which is presented annually, recognizes and rewards staff members for exemplary service to the office. In making the selection for this award, Potter considered all aspects of performance, including excellence in job performance and professionalism, as well as contributions to office efficiency and fostering of productive relationships with other agencies and the public.
USA Potter stated that Cheryl J. Given was selected for the outstanding work she performed in the Financial Litigation Unit during the calendar year 2008 and for the extraordinary effort she exhibited in a complex criminal trial. Given, who joined the United States Attorney's Office in 2005 as a Paralegal Specialist in the Financial Litigation Unit, is a graduate of Glenville State College. She also obtained a certificate in paralegal studies from the University of Charleston, and is a certified paralegal by examination through the National Association of Legal Assistants. She is the daughter of Eulajean Cogar Gross of Cowen, West Virginia, and Charles O. Gross of Morgantown, West Virginia. Given resides in Elkins with her husband Charles.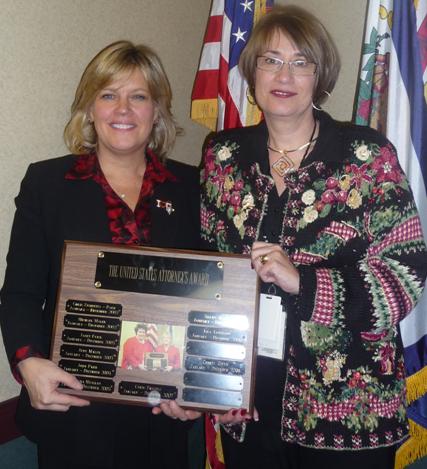 USA Potter (left) presents award to Cheryl J. Given (right)
According to USA Potter, "Ms. Given is truly an asset to our office through her focus on productivity in the Financial Litigation Unit. Her enthusiastic contribution to various cases and office initiatives is also quite commendable and reflects a dedication to the teamwork approach we strive to attain within the U.S. Attorney's Office."
WV Public Corruption
Hotline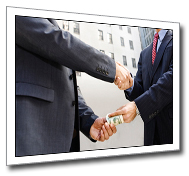 Call 1-855-WVA-FEDS or Email wvafeds@usdoj.gov if you have information about public corruption in your community.