OFFICE OF THE UNITED STATES ATTORNEY
NORTHERN DISTRICT OF WEST VIRGINIA
Sharon L. Potter
UNITED STATES ATTORNEY
1125 Chapline Street, Federal Building, Suite 3000 ● Wheeling, WV 26003
(304) 234-0100 ● Contact: Fawn E. Thomas, Public Affairs Specialist
March 10, 2009
FOR IMMEDIATE RELEASE

Arizona Resident Sentenced to 30 Years
on Three Drug-Related Charges

WHEELING, WEST VIRGINIA — A 36 year old Buckeye, Arizona, resident was sentenced on March 6, 2009, in United States District Court in Wheeling by Judge Frederick P. Stamp, Jr.
United States Attorney Sharon L. Potter announced that: JESSE MORALES, age 36, was sentenced to 30 years imprisonment to be followed by a term of five years of supervised release for his role in a methamphetamine organization responsible for the distribution of more than 200 pounds of methamphetamine. MORALES was convicted on December 6, 2008, following a five-day trial for one count of conspiracy to distribute methamphetamine from January 2003 to March 9, 2007, in Sistersville, Tyler County, West Virginia; one count of conspiracy to engage in interstate travel in aid of a racketeering enterprise from early 2003 to March 9, 2007, from Sistersville to Phoenix, Arizona and Ascension, Mexico; and, one count of conspiracy to commit money laundering from January of 2003 to October 10, 2006.
Judge Stamp found MORALES and the conspiracy was responsible for distributing 204 pounds of methamphetamine through co-defendant James Snyder's Sistersville residence from 2003 to 2006. The Judge also found MORALES obstructed justice by testifying falsely at trial as to material facts and assisting Snyder in his attempt to avoid prosecution by fleeing to Ascension, Mexico, in the Summer of 2006. Snyder was arrested in Mexico and returned for prosecution in March of 2007.
The investigation, code named "Vacuum Seal" since the group transported money in vacuum sealed packs, identified MORALES as a source of supply of methamphetamine for a multi-state organization which was headed by James Martin Snyder from his Sistersville residence. Following Snyder's moving from northeast Ohio to Sistersville in January of 2003, he and his associates began importing multi-pounds of methamphetamine from two sources of supply in Phoenix, Arizona, including MORALES.

Testimony at trial revealed that typically Snyder would make the financial arrangements to purchase the methamphetamine from MORALES and couriers would drive from West Virginia to Phoenix, obtain the methamphetamine from MORALES and transport it back to West Virginia, concealing it inside a spare tire. Once back in Sistersville, the methamphetamine would be distributed to other members of the organization and distributed in West Virginia, northeast Ohio, and Florida. The street value of the methamphetamine distributed was in excess of $6,000,000 based on the Court's finding of 204 pounds.
The organization began to unravel on April 11, 2006, when Wayne Prinkey was arrested following a traffic stop in Canadian County, Oklahoma, when he was transporting 11 pounds of methamphetamine the group had just purchased in Phoenix for $140,000. A week later, Snyder's Sistersville residence was searched, with police finding $52,075 of drug proceeds, methamphetamine and several "owe sheets" reflecting thousands of dollars of drug debts owed the group.
MORALES was twice stopped by police with drug proceeds. The first stop occurred at an airport in Phoenix, Arizona, in July of 2005 where he was found with $45,000 and the second stop was near St. Louis, Missouri, in February of 2006 when he had attempted to conceal more than $43,000 in his car.
Seven (7) individuals from this investigation have been convicted to date and law enforcement authorities seized approximately $240,000 in drug proceeds and Snyder's 56 acre parcel of real estate in Sistersville.
The case was prosecuted by Assistant United States Attorney John C. Parr. The case was investigated by the Ohio Valley Drug & Violent Crimes Task Force (which consists of officers from the Drug Enforcement Administration, the Wheeling Police Department and the Ohio County Sheriff's Department) with assistance from the Tyler County Sheriff's Department; the West Virginia State Police; the Ohio Highway Patrol; the Phelps County, Missouri, Sheriff's Department; the Phoenix, Arizona, Police Department; the Canadian County, Oklahoma, Police Department; the Ashtabula, Ohio, Sheriff's Department and various Drug Enforcement Administration offices throughout the country.
WV Public Corruption
Hotline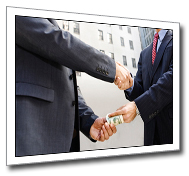 Call 1-855-WVA-FEDS or Email wvafeds@usdoj.gov if you have information about public corruption in your community.