OFFICE OF THE UNITED STATES ATTORNEY
NORTHERN DISTRICT OF WEST VIRGINIA
Sharon L. Potter
UNITED STATES ATTORNEY
1125 Chapline Street, Federal Building, Suite 3000 ● Wheeling, WV 26003
(304) 234-0100 ● Contact: Fawn E. Thomas, Public Affairs Specialist
September 2, 2009
FOR IMMEDIATE RELEASE

Morgantown Resident Sentenced to 5 Years for
Conspiring to Defraud the Internal Revenue Service
CLARKSBURG, WEST VIRGINIA - A 59 year old Morgantown, West Virginia, resident was sentenced on August 31, 2009, in United States District Court in Clarksburg by Judge Irene M. Keeley.
United States Attorney Sharon L. Potter announced that BOOKER T. WALTON was sentenced to 60 months imprisonment to be followed by three years of supervised release. WALTON entered a plea of guilty on March 2, 2009, to one count of an Indictment charging him with a conspiracy to defraud the Internal Revenue Service from November 1994 through October 20, 2003. WALTON, who owned and operated Walton & Associates Financial Services in Morgantown, promoted and established alleged trust systems for clients, counseling and advising such clients on the use of the "trusts" in such a manner to unlawfully divert and substantially understate taxable income, and thus evade assessment and payment of income taxes.
Evidence presented at the plea hearing showed that WALTON sold "Aegis" Trust packages to various clients in the Northern District of West Virginia. Despite the appearance that these trust entities were independent as required by law, in each of the Aegis systems promoted by WALTON, the clients (taxpayers) retained use, management, and control of the funds purportedly placed in the various trusts and bank accounts. The system funneled monies through various bank accounts in nominee names in order to conceal income and the payment of taxes.
Specifically, the typical Aegis client was a business owner operating in a corporate form, who diverted corporate funds disguised as management or consulting fees. The diverted funds were deposited/transferred into bank accounts established in the names of various trusts, and personal expenditures were made by the issuance of checks drawn on the trust bank accounts. The promoters of these trusts, such as WALTON, claimed that the client could "control everything but own nothing," thereby avoiding the payment of taxes.
The evidence gathered during the investigation, including a search of WALTON's office, established intent and knowledge of the illegality of WALTON's actions. Furthermore, the investigation revealed that the clients brought into this bogus trust scheme by WALTON eventually had reason to know that the "trusts" were illegal, but continued to evade taxes in violation of law. Such evidence of fraudulent intent included documents warning against the "abusive trusts" and IRS alerts detailing why the abusive trusts were illegal.
WALTON is the last of 12 individuals prosecuted and convicted in federal court in West Virginia as result of the IRS investigation into the use of abusive trusts to hide income.
WALTON, who is currently free on bond, will self-report to a designated federal institution.
The case was prosecuted by Assistant United States Attorney Randolph J. Bernard. The case was investigated by the Internal Revenue Service - Criminal Investigation Division.
WV Public Corruption
Hotline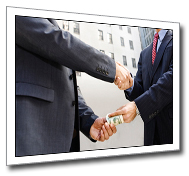 Call 1-855-WVA-FEDS or Email wvafeds@usdoj.gov if you have information about public corruption in your community.