OFFICE OF THE UNITED STATES ATTORNEY
NORTHERN DISTRICT OF WEST VIRGINIA
William J. Ihlenfeld, II
UNITED STATES ATTORNEY
1125 Chapline Street, Federal Building, Suite 3000 ● Wheeling, WV 26003
(304) 234-0100 ● Contact: Fawn E. Thomas, Public Affairs Specialist
December 22, 2010
FOR IMMEDIATE RELEASE

Two Men Convicted after
Eight-Day Jury Trial
CLARKSBURG, WEST VIRGINIA — Two men were convicted by a Federal Trial Jury on December 21, 2010, after an eight-day trial, in United States District Court in Clarksburg before Judge Irene M. Keeley.
United States Attorney William J. Ihlenfeld, II announced that:
MICHAEL J. PAVLOCK, age 59, of Morgantown, West Virginia, was convicted on twelve counts of wire fraud and three counts of making false statements to influence a bankruptcy case and RICHARD W. POWELL, II, age 42, of Point Marion, Pennsylvania, was convicted on one count of making false statements to influence a bankruptcy case, pursuant to an Indictment returned by a Federal Grand Jury on January 5, 2010.
The evidence at trial established that, for the past 10 years, Michael PAVLOCK perpetuated an elaborate scheme to obtain "investment" and "loan" money based on numerous misrepresentations and false pretenses. PAVLOCK persuaded various individuals to provide him with money or property by promising significant profits through real estate transactions and business revenue. He also obtained loans by making false assurances that the loans would be repaid in a matter of weeks, if not days.
In furtherance of the scheme, PAVLOCK directed the formation of several companies--most of which never operated and none of which ever realized any profit. Despite the illegitimacy and failure of these companies, PAVLOCK used the victims' money to purchase expensive "company property" for his personal use, including several luxury sports cars, two condos at Cheat Lake, and a hot tub.
PAVLOCK also personally profited from his scheme by using the victims' money to pay his personal expenses, though never reporting any salary or filing any tax returns for the duration of the scheme. Moreover, from 2006 to 2009, PAVLOCK misappropriated over $50,000 of the victims' money to pay for his girlfriend's personal expenses, including cars, rent payments, and cosmetic dental work.

As part of his scheme, PAVLOCK directed the filing of bankruptcy for Golden Investment Acquisitions, LLC without seeking authorization from the company's owner.
PAVLOCK misappropriated some of the individuals' loan and investment money for his personal use and expenses and transmitted and caused the transmission of interstate faxes, emails and bankruptcy filings for the time period December 21, 2005, to May 24, 2007, for the purpose of executing the fraud, which were the convictions in Counts One through Twelve.
On or about June 6, 2007, and June 22, 2007, PAVLOCK, with the intent to obstruct and influence a bankruptcy case, caused false entries in the bankruptcy petition by falsely identifying the manager and owner of the Golden Investment Acquisitions, LLC and failed to list the actual owner and his parents as creditors of the company.
On January 29, 2007, POWELL and PAVLOCK, with the intent to obstruct and influence a bankruptcy case, caused false entries in a letter to the United States Bankruptcy Trustee by stating that PAVLOCK and another individual loaned $500,000 to Golden Investment Acquisitions, LLC.
Assistant United States Attorney Andrew Cogar, who prosecuted the case for the United States, stated that "For over ten years, Pavlock has been the quintessential con man. He repeatedly lied to obtain money, then lied about how he spent that money. As a result, Pavlock's unwitting investors and associates have lost millions of dollars. Pavlock's actions have devastated lives, and we hope that the jury's guilty verdicts provide some vindication for Pavlock's victims. We also will vigorously pursue the forfeiture of property that Pavlock bought with the victims' money."
"The FBI's investigation in this case was meticulous, comprehensive and effective. The U.S. Attorney's Office especially commends Special Agent Brian Fox for his tireless effort in bringing Pavlock and Powell to justice," stated US Attorney Ihlenfeld.
PAVLOCK, who was placed on home confinement, and POWELL, who is free on bond, pending sentencing, face a maximum exposure of 20 years imprisonment and a fine of $250,000 on each count.
WV Public Corruption
Hotline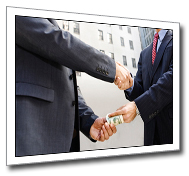 Call 1-855-WVA-FEDS or Email wvafeds@usdoj.gov if you have information about public corruption in your community.