OFFICE OF THE UNITED STATES ATTORNEY
NORTHERN DISTRICT OF WEST VIRGINIA
William J. Ihlenfeld, II
UNITED STATES ATTORNEY
1125 Chapline Street, Federal Building, Suite 3000 ● Wheeling, WV 26003
(304) 234-0100 ● Contact: Fawn E. Thomas, Public Affairs Specialist
July 11, 2011
FOR IMMEDIATE RELEASE
United States Attorney Announces Anti-Violence Initiative;
Director of the Office on Violence Against Women Participates in Training

WHEELING, WEST VIRGINIA - United States Attorney William J. Ihlenfeld, II, today announced an Anti-Violence initiative on the grounds of the Northern Regional Jail in Moundsville, West Virginia. Director Susan B. Carbon, Office on Violence Against Women, participated in the announcement. In a unique partnership with the West Virginia Coalition Against Domestic Violence; the Bureau of Prisons; the West Virginia Division of Corrections; the West Virginia Regional Jail and Correctional Facility Authority; the Bureau of Alcohol, Tobacco, Firearms & Explosives; the Lee Day Report Center; and the West Virginia Division of Juvenile Services, the United States Attorney's Office and its partners have developed a program that they believe will have a tremendous impact in the Northern District of West Virginia.
"The Attorney General has challenged each United States Attorney to design and implement a local strategy to reduce the amount of violent crime in our communities," according to USA Ihlenfeld. "The strategy in the Northern District of West Virginia has three main components: first, vigorous criminal enforcement efforts; second, crime prevention programs; and third, prisoner reentry initiatives."

"We have learned that to be effective in preventing violence and abuse in our homes and communities, a coordinated community response is an important predicate for success," said Susan B. Carbon, Director of the Office on Violence Against Women (OVW). "The efforts underway in the Attorney General's Anti-Violence Strategy in West Virginia for training, education and public outreach – including those targeting victims of domestic violence and at-risk youth – offer all of us an opportunity to share resources and knowledge for providing services to those who need them, while at the same time holding perpetrators accountable."

According to USA Ihlenfeld, the anti-violence strategy in the Northern District of West Virginia will be known as Project POWER, with POWER standing for Preventing Offenses of Weapons, Enforcement, and Reentry. The enforcement efforts will include identifying the worst of the worst offenders in West Virginia communities and targeting them for prosecution. Prevention and reentry efforts will include a focus on female inmate outreach, with the goal being to help them to avoid violent relationships once they are released from incarceration. The first such presentation was made today by USA Ihlenfeld and Director Carbon to a group of female inmates at the Northern Regional Jail in Moundsville.
"Responding to the complex needs and reality of battered women charged with crime is a critical component of ending violence against women. As Team Coordinators of the West Virginia Coalition Against Domestic Violence, we are grateful for the vision of U. S. Attorney Bill Ihlenfeld to give this issue the attention it deserves," stated Sue Julian and Tonia Thomas.
Another priority of the strategy will be to educate the public on the dangers of straw party firearm purchases, with this point being emphasized in presentations to juvenile offenders and high school students.
"Our enforcement efforts have already begun, as I have met or communicated with many state and local law enforcement officials throughout the District and asked that they refer cases to me regarding violent individuals that may be in violation of federal criminal statutes. The response has been outstanding, and we have received a large number of referrals," said USA Ihlenfeld.
USA Ihlenfeld and ATF agents will conduct a statewide training later this year for all VAWA-funded prosecutors, law enforcement officers, and domestic violence advocates. The primary purpose of the training will be to educate those in attendance about the various federal statutes that are available for use in domestic violence cases, and the penalties that go along with them.
WV Public Corruption
Hotline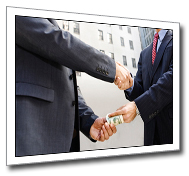 Call 1-855-WVA-FEDS or Email wvafeds@usdoj.gov if you have information about public corruption in your community.